Also earlier this year, Walmart had announced that it would add 10,000 retail jobs in the US with 59 new, expanded and relocated stores. The number of new stores is said to be fewer, but the number of jobs is more. What is the reason for this?
Walmart is in a period of unprecedented investment to better serve customers. To do that, we continue to find ways to operate more efficiently and effectively, true to our costconscious heritage. We are getting great feedback from our customers about the changes under way and plan to be aggressive going forward to serve them even better.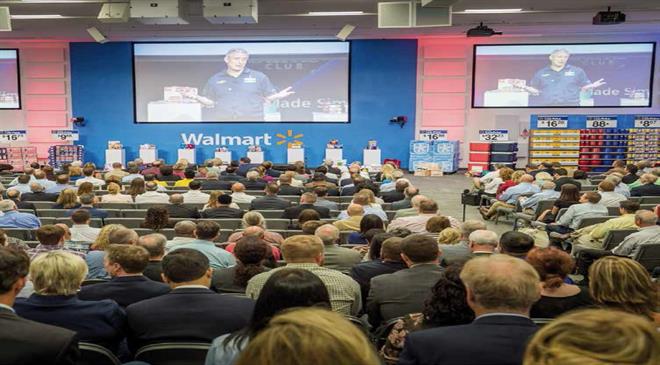 Overall, how do you see US manufacturing shaping up? Has the US dragged itself out of the global slowdown? Are things looking better?
By investing in products that support American jobs, we are able to bring new products to our shelves that our customers want-and new jobs to our communities. Increasing domestic manufacturing will help create additional jobs in the US-that's good for American businesses.
In this context, how do you see the manufacturing of textiles/apparel? Walmart had embarked on the job creation agenda some 3-4 years before the current US President was sworn in. You were under no compulsion to manufacture in the US earlier, but are you now?
We've been focused on encouraging manufacturing in the US with our suppliers for several years now and launched an initiative in 2013. As the largest private employer in the US making significant investments in our business that impacts local communities nationwide, we're proud of the role we play helping create and support jobs in the US.
The new US regime is said to be working on a proposal on how imports get taxed. How is Walmart handling this? Very broadly speaking, how do you see Walmart fitting into the new scheme of things?
We look forward to working with the Administration (and Congress); however, it is too soon to  discuss policy at this time.
What are your India plans? At the last count, Walmart had 21 stores in India. What are the plans for expansion? The Indian government too wants everyone to 'Make in India'. How do you plan to operate in a global scenario where every country wants to retain or even expand its manufacturing base?
It is in our best interest to have our suppliers succeed. We believe in helping them understand the Walmart business, changing global trends and achieving the right certifications if they are needed. We like to source from local businesses and support sourcing efforts in our countries like Make in India. Walmart India currently operates 21 stores across the country in 'cash and carry' format and plans to open 15 more stores in next five years.