Cotton has become a better investment
Cotton Council International (CCI), the export promotion arm of the National Cotton Council of America (NCC), is a non-profit trade association that promotes US cotton fibre and manufactured cotton products around the globe with the Cotton USA trademark. CCI has 60 years of experience promoting US cotton fibre and products to trade and consumers, and works with spinning mills, fabric and garment manufacturers, brands, retailers, textile associations, governments and the USDA to facilitate the use of US cotton. Its reach extends to more than 50 countries through 20 offices around the world. Supima, on the other hand, is also a non-profit organisation in the US whose main objective is to promote the use of US-grown American pima cotton around the world and is involved in quality assurance and research programmes. Founded in 1954, it derived its name from 'superior pima'. Supima licenses about 400 selected high-quality mills, textile and clothing manufacturers, and brands/retailers to use the Supima trademark. Members finance the activities of Supima by payments calculated on a "per bale" basis. William Bettendorf, director of supply chain marketing for South and Southeast Asia at CCI, and Marc Lewkowitz,president and chief executive at Supima, were in India recently for their third annual seminar at Coimbatore. Bettendorf and Lewkowitz spoke at length about US cotton to Subir Ghosh.
This is the third time that you are here. What was your experience from the last two times, and keeping that in mind how do you look at this year's event?
WB: I am new in this position; I kind of inherited this. So, Peush (Narang) [CCI representative for India and Sri Lanka] would be the best person to respond with details. But I can tell you that had we not had very positive responses, we would not have been here again. It was (on the earlier occasions) very well received, and our Executive Director Bruce Atherly joined Marc last year for this, and he was very impressed with the group that came together. That sealed the deal, and confirmed the fact that we would continue. 
ML: This might well be the third event, but we have had a very long history of working in India. So, we have established relationships with multiple, different industry sectors and companies; they have grown over time. The amount of cotton imported into India has grown. The perception and understanding of the quality of US cotton has grown within the Indian marketplace. Specifically for Supima and Cotton USA, we are beginning to see the opportunity now for a nation that has an intrinsic value for cotton and is looking for better quality cotton products to be available in the marketplace. 
Could you share numbers on this?
ML: From an import basis (number of bales India imported), they set a record this past year with 250,000 bales of just Supima imports. That's a substantial increase over the previous years. 
WB: The numbers we are presenting (here) shows 1.2 million bales.
Going back in time only till the time of the last recession, how much have things changed primarily from the American point of view (w.r.t India)?
ML: For Supima, we have launched into consumer-based activities with a couple of our partners. Those would be Raymond and Arvind. The Supima-based fabrics and Cotton USA fabrics that are going into the ready-to-stitch markets are very substantial programmes. There was some problem with the Egyptian cotton that was being imported into India. The quality of the Giza cotton that was being exported from there had some trouble. It was an unfortunate circumstance for them. But mills are always dependent on stability, and that is one of the biggest strengths that American pima and US cotton have in general. The farming practices-because of the size of operations, the efficiency of the operations, the amount of research done, the involvement of universities in terms of the continuing education and research for growers and new seed varieties, the breeding programmes, and now we have the US Department of Agriculture (USDA) which does thirdparty classing of every single bale. So, every mill that gets US cotton knows exactly what the value is of each bale. So, that gives them unique position to have very uniform laydowns year after year.
And what do you think were the lessons from the controversy over Egyptian cotton? Surely there was a lesson for everyone there?
ML: Sure. There were two issues. One was the problem that Welspun had, which was more of an industry issue rather than an Egyptian-only issue. The other was what developed within Egypt, with regard to maintaining and protecting the identity and quality of the cotton grown there. On the latter, you have to recognise that everything that we do as a country is focused on producing the most sustainable, the most effective, the highest quality possible... and to keep pushing that bar higher and higher. That was certainly supported in what happened this year and last year, and it is rewarded also with the increase in demand. So, that is something we will continue to be doing. We will never rest. The US will always be a cottonproducing country. And cotton is still cotton-it is a beautiful, natural, biodegradable fibre that has not been replaced by a synthetic alternative.
In terms of cotton, there has been a resurgence in the US over the last couple of years or so. What do you think has led to this?
WB: Cotton is a commodity and American farmers are businesspersons. They had to choose whatever crop they could plant to get the best returns for themselves. So, with the increase in global commodity prices, cotton has become a better investment for the last couple of years. That is why we see an increase in acreage. It is really very simple. 
ML: You see... you have to market it against alternative crops. California is a little bit more complicated just because of the environment that can hold so many crops. They say they can grow over 200 agricultural crops in the San Joaquin Valley where most of the American prima is grown. A lot of those crops are permanent crop; so, those will displace the cotton crop permanently... for a period of say thirty years. If a grower is going to make an investment in having a crop planted for seven years before they can begin to start reaping the first initial rewards-they want that crop to make a long-term investment viable and then to get to the point of their first harvest, they have to be able to not only financially support that (which means they look for the other crops to support the overall farming operations), they also have to be in a position where they can burden that investment for that period of time till there is a revenue.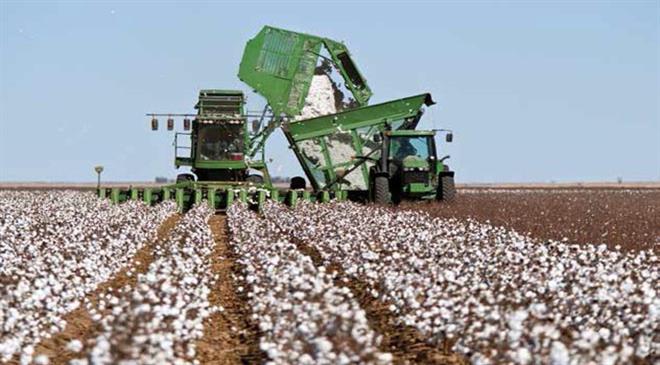 And, how much of the acreage as well as production is driven by exports?
ML: For American pima, that would be 90-plus. In fact, almost 95 per cent of our crop is exported. Therefore, exports are incredibly critical to American pima in terms of the demand.
Is any of this export demand influenced in any way by the stockpile of cotton that China has?
ML: I would say it has mainly affected the global cotton position, as opposed to the ELS (extra long staple) position. But it has also had some impact on the ELS position because over the last couple of years China was subsidising the ELS cotton production at 60 cents per pound. So, for every pound that the grower was growing, they would receive from the government those funds. It was disruptive because all of a sudden China became a much bigger producer of ELS cotton until this year when the production has fallen back. So, the challenge for the American pima industry and producers was two-fold. It took out a lot of the demand that was there in China; and Chinese mills that were the largest importers of American pima were not able to import, even though the prices were competitive. So, China dropped from being the largest importer to being the second-largest; India now being the biggest.
Is there any particular reason why the demand for US ELS in India has been rising?
ML: There are two. The first is that there had been an issue with Egyptian cotton over the inconsistency, and also the contamination issues still being driven. The other is availability; because of the size of the American pima crop (being the largest in the world) with most of it being exported, it becomes the most accessible to international textile mills whenever they need high quality or consistent quality cotton (besides being contamination-free cotton). So, when someone is looking for such cotton, they would be looking for a consistent supply. Therefore, the size of the crop, the year-around availability and the USDA classing all make it the go-to solution.