Our projected revenue FY20 is £17.6 mn
WoolOvers is a British lifestyle brand, designing and selling natural knitwear since 1989. The brand began selling women's and men's jumpers at equestrian and country shows across the United Kingdom. It now offers accessories, jerseys, classic knitwear and home textiles made up of cashmere, cotton, and merino wool. Chief executive officer Mike Lester chats about catering to a customer base comprising people over 50 in an interview with Fibre2Fashion.
WoolOvers completed 30 years. What kind of products did you begin with? Did you always want to target consumers above 50?
The company has always had an identity rooted in rural English culture, but I wouldn't say that we started out with the aim of marketing to a 50 plus customer base. It was more that our products naturally attracted this demographic, and we have adapted accordingly. Some of our most successful styles go all the way back to our first collection from 1989.
How would you describe the mature market especially for apparel in the United Kingdom?
In my opinion, the mature market in the United Kingdom is under-addressed, and in an underwhelming manner by most brands. A lot of companies that share our target audience use branding that either focus on the twilight years with hackneyed, nostalgic imagery, or totally ignore their target market with glamorous, 20-something models. We are trying to position our brand somewhere in between those two extremes.
What is the average age of your customer? What according to you are the key trends of this market?
Our clothes cater to a reasonably wide age bracket, but around 85 per cent of our customers are women aged 50 and up. Key trends are a little hard to define, as our ideal customer does not let her age define her. Still, it is clear that our average customer keeps an eye out for quality, comfortable clothes she can look good in, without being a slave to fashion.
Where are the products designed? How big is the design team? What factors are considered while designing for a mature target group?
All our products are designed in-house at our headquarters in Sussex, UK. This is taken care of by a close-knit team of five, and we always aim to capture a sartorial character that is stylish, but not defined by modern fast-fashion trends.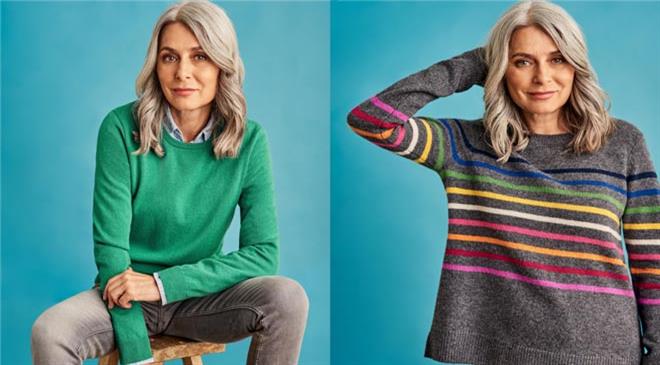 Where do you source raw material from? How natural are the dyes used?
We source our fibres for knit and woven garments from Australia, New Zealand, India, Bangladesh, Italy, the UK and China. The dye process always conforms to EU regulation as covered by the REACH legislation.
Is the production outsourced?
No, our production is always with our designated, dedicated suppliers with whom we have worked for many years. These suppliers have been audited and comply with global standards on social compliance as set out by the International Labour Organisation (ILO). Outsourcing is not allowed.
How fast is the knitwear industry growing? Which are the major countries producing natural knitwear products?
We do not have market intelligence on the pace of growth of the knitwear industry as a whole. From our own perspective, we are growing. We sell natural knitwear whereas a lot of knitwear industry growth would be from synthetic fibres that are less environmentally sound. Natural knitwear comes from countries where natural fibres come from, for example, China or Australia. However, manufacturers, and the brands that buy from them, are global.
What are the factors driving sales of natural knitwear products world over?
There are many complex factors driving the sale of natural knitwear products. We believe that as consumers have become more and more environmentally conscious, the emerging threat of microplastic pollution caused by washing synthetic clothing is going to have a big impact on people choosing quality, natural knitwear over cheaper, environmentally toxic alternatives.
What is your retail presence online and offline?
All our sales are direct to consumer. We send out several catalogues a year and maintain an e-commerce website. When it comes to our online presence, we are always working to bolster our search engine optimisation profile and our presence on social media, where we enjoy a modest but loyal following.
Which are your best-selling products? Which points-of-sale work well for this target group online versus offline?
Best-sellers come and go like with any clothing brand. Having said that, there is a select core group of products that has always been notably popular with our customers, mainly classic crew and V-neck styles made with a cashmere and merino blend.
As we have gained a greater understanding of our target market, we have found that the catalogue performs best out of these two channels, thanks to its strong, aspirational presentation to customers.
How many collections do you come up with every year? How many styles in each collection?
We release two main collections each year: spring/summer (SS) and autumn/winter (AW). Our upcoming AW collection has 341 styles in total, and SS has 186.
Are all collections sustainable and bio-degradable?
Our collections are all made from natural, bio-degradable materials, and we are always on the look out for new ways to make our entire range and everything we do to deliver is that much greener.
Please share details of the last two fiscal years and the targets set for next two.
Our revenue for FY19 was £14.8 million and we are projected to take £17.6 million in FY20. Our target for next year is £20 million.
Do you plan to add more items to your current product basket? Are any major retail expansions being planned? What are your plans for next year?
We are planning to keep our range of the same size for the foreseeable future, focussing our energy on taking our brand into new territory, for example sending out our first catalogues in Germany and the United States. (HO)