What is the waste quantity sourced annually?
We prefer to think of end-of-life textiles as a material resource that can be effectively reused in a circular economy. This way, the material will become valuable and we aim to reduce and ultimately eliminate waste.
What is your recycling capacity? How much of non-reusable materials does your advanced recycling method turn into raw materials?
Currently, we are running pilot plant quantities to validate the steps of the process and outputs quality. When scaled up, we anticipate that our first commercial plants will be designed to convert 50,000 tonnes a year of end-of-life textiles into valuable polymers. The yield of each plant will be set at industrially competitive levels, dependent on the WA-Feedstock Specification.
Where does the recycling take place? Who are your strategic partners down the line?
Our technology will be licensed globally. We believe that our first plants are likely to be in Europe where good legislation is helping to transform the market to sustainable circular solutions, where our business will play a role. We will then extend our reach worldwide. We believe that plants will be ideally located where the input end-of-life textile feedstock is aggregated, to limit transportation. We believe that will locally secure supply of high-quality sustainable polymer raw materials, new local supply chains may follow. 
We are fortunate to have world leading strategic partners across a large part of the textile and manufacturing supply chain. These include our investors H&M and Sulzer and pioneer member partners like Kering, Sympatex, Asics and more. We are actively working on projects with leading end-of-life textile aggregators and sorters, with players in the textile production supply chain, such as spinners, textile manufacturers and brands, plus retailers, governments and NGOs. We aim to cover all potential important stakeholders to build the business successfully.
What are the outputs of your recycling process?
We aim to develop an industrial process that will be competitive in the existing supply chain. Our process outputs are new and regenerated raw materials such as PET pellets and cellulose pulp from end-of-use textiles, or pure polyester and polycotton-cellulose blends. Our outputs enter back into textile production at yarn manufacturers and fibre spinners to become new fabrics and garments.
What is the durability and strength of such raw materials?
The output from a Worn Again Technologies' plant will reliably deliver PET and cellulose pulp material of the same quality as virgin derived raw material equivalents. These will be tested in the supply chain to ensure that durability, strength and all other physical properties of the end products perform the same.
Is the cost of producing garments and fabrics from textile waste same as using virgin raw materials?
Our aim is to make sure that the outputs we create are of equal, if not lower, cost to virgin raw materials; otherwise the commercial model will not work.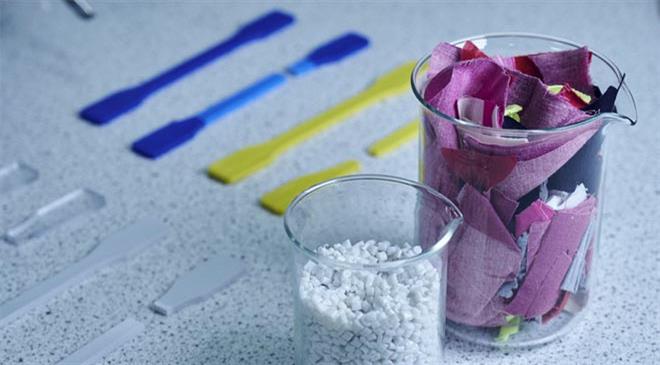 What is your plan to reach out to more plant operators and form partnership with them?
The industrialisation of our process will be of interest to potential customers across the textile supply chain. We aim to sell technology licenses and operational plants to companies that want access to reliable high-quality recycled PET and cellulose pulp materials. We believe that these will include existing polymer resin fibre producers, processors and users in the existing and evolving supply chain. We believe that some end-of-life textile collectors and sorters may choose to forward integrate their business to convert their existing garment resources into recycled polymers.
How popular are recycled clothes with consumers? Have you done any market study regarding this?
NGOs and end-of-life textile collectors tell us that reuse of high-quality clothes will continue. This may be impacted by covid-19 and may differ around the world, but we wholeheartedly support that a garment should be safely used for its whole life. However, we understand that even after multiple reuses, eventually a garment will come to the end of its useful life. It is at this point where it should be recycled, rather than sent to landfill or incinerated. This is where Worn Again Technologies aims to provide the solution - specifically for polycotton textiles which are so difficult to recycle effectively.
What are the researches being conducted in your new R&D facility? Who are the collaborators?
Worn Again Technologies employs world class scientists and engineers from around the world to work on our cutting-edge research and development. The research involves state-of-the-art techniques and processes where we work collaboratively with many global world leading partners. 
The pilot plant which we launched in January this year is designed to validate and develop our proprietary process. The next stage of our scale-up will be in a larger demonstration facility.
You recently raised some new investment. How are you going to utilise this to expand your recycling business?
We are very pleased to announce that we just raised €8 million from existing investors including H&M, Sulzer and a new investor in textile manufacturing, which will help us finalise our development and scale up of the technology. This investment provides us with two years of operating capital and will help us complete our technology development from R&D phase until commercialisation.