Global trends for zippers are heading same way as apparel and accessories
YKK, a manufacturer of high-quality fastening products headquartered in Tokyo, Japan, has a presence in 71 countries around the world. The company is known for producing a number of high-quality products including zippers, hook & loop fasteners, plastic buckles and notions, webbing, and snaps & buttons. In a conversation with Fibre2Fashion, a spokesperson for the company reveals how it has grown since its inception back in 1934.
How has the market for fastening solutions evolved over the years? How big is the market and at what rate is it growing?
Originally, apparel and bags that use zippers were produced (sewn) in the countries in which they were sold (consumed). Then production shifted from developed countries to emerging countries due to such factors as rising labour costs, and an increasing number of our customers transitioned to global development, wherein planning and design, production, and sales take place in different countries.
Regarding the size of the market, while we make our own estimates in terms of business activities, there are no set official figures on the global zipper market produced by industry organisations.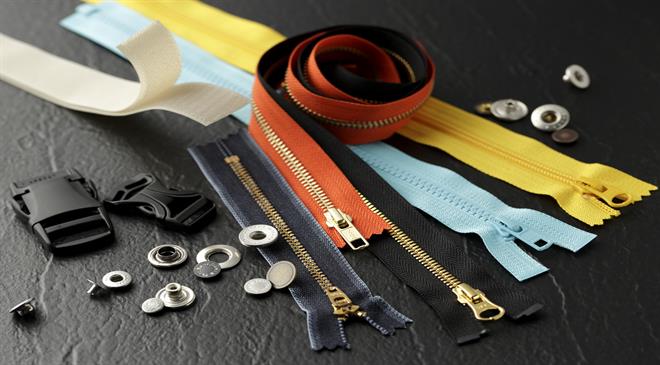 Which are the major markets for zippers, hook & loops, buckles, buttons, and webbing solutions?
There are, of course, thousands of applications for fastening products in almost any industry imaginable. Some of the major industries include apparel and handbags, both in the fast fashion and luxury segments, outdoor industry, including boats, diving suits, and jackets, personal protective and safety gear, such as firefighting gear, chem-bio suits, tool lanyards, the automotive and space industries, medical applications, and luggage.
What are the kinds of quality and safety compliances that are specific to fastening solutions?
Ever since it was founded, quality has been central to the YKK Group's management, and all of its business activities revolve around the assurance of quality. Maintaining stable and constant quality has become one of the key concerns for many of the global manufacturers, and in order to support these companies, YKK has established YFS-YKK Fastening Standards-to provide products of the same quality level, wherever and whenever they are manufactured. Each YKK production site conducts various quality tests and reports the results to Japan HQ on a regular basis in order to maintain and assure a consistent quality level. YKK continuously works to improve its quality management, occupational safety and health management and environmental management systems. 
The company's conformity to international and national standards is confirmed through our many certifications (for example, we have ISO9001 certifications at 49 companies in 35 counties). In addition, in the US, YKK's products meet the standards set by the CPSIA (Consumer Product Safety Improvement Act) and the Soluble Elements Restriction per the Consumer Safety Specification for Toy Safety (ASTM F963). In Europe we meet the standards set by REACH (Regulation (EC) No 1907/2006 of the European Parliament and of the Council on the Registration, Evaluation, Authorization and Restriction of Chemicals) and in Japan we meet Japanese Law 112.
Moreover, YKK is an environment-friendly company committed to sustainability. The YKK Group Environmental Pledge was signed on September 20, 1994 with the directive that YKK 'promotes harmony with the environment as the highest priority of its business activities'. As a company, we celebrate World Environment Day on June 5 with tree plantings around the world. We have ISO14001 certifications at 59 companies in 45 counties. YKK has also made improvements to its dyeing technology, which has enabled it to reduce the amount of steam used for dyeing by 25 per cent and wastewater by 50 per cent.
Additionally, fair business practices are the foundation of YKK's business activities. We ask that our suppliers likewise engage in fair business practices. In carrying out our business activities, the YKK Group is expected to undertake corporate social responsibility throughout its supply chain. To achieve this goal we need the help of our trading partners, and we ask that they comply with the following fair business practices.
We require that our suppliers comply with applicable laws and regulations in their business activities as well as with social norms and implement fair and ethical business practices.
We require that our suppliers ensure that they do not use forced labour and child labour. We also require that they provide wages and other conditions of employment as well as maintain health and safety standards that comply with the laws of the countries and regions where they do business.
We request that our suppliers promote the preservation of the global environment as well as engage in procurement activities that are in accordance with our Green Procurement Policy. This policy is based upon our corporate philosophy, the Cycle of Goodness, which states that an enterprise is an important member of society and that it must thereby coexist with other elements of society, and the value of its existence will be recognised by the benefits it shares with society. The belief behind this is that no one prospers without rendering benefit to others. We carry out business activities with the aim of bringing mutual prosperity, and our intent is that innovative ideas and inventions will result in business expansion for the YKK Group, which in turn would bring prosperity to customers and trading partners, and thus benefit all society. We require that our suppliers also establish a quality assurance system for their products as well as ensure the quality and safety of products as required by the YKK Group. We request that our suppliers build an appropriate information security system and manage their information resources appropriately.
In addition to requiring that our suppliers must comply with the above fair business practices, if they use 3TG metals (tin, tungsten, tantalum and gold - metals defined by US law as conflict minerals that are mined in the Democratic Republic of the Congo (DRC) where armed conflict and human rights abuses occur) in their products, we require that they must be able to provide us with satisfactory confirmation that they have conducted a 'reasonable country of origin inquiry' to determine that their 3TG metals are not originally sourced from the DRC or adjoining countries. This requirement is derived from Section 1502 of the Dodd-Frank Wall Street Reform and Consumer Protection Act which requires that companies that make products for which 3TG metals are necessary to the functionality or production of that product must assess their supply chains and publicly report on the source of these materials if they are sourced from regions of conflict in and around the DRC. YKK will not source 3TG containing raw materials from any supplier that is not able to provide us with satisfactory confirmation that they have conducted a 'reasonable country of origin inquiry' to determine that their 3TG metals are not originally sourced from the Democratic Republic of Congo or adjoining countries.