Sustainability and transparency are two sides of the same coin
Aizome, Asia's first Fairtrade denim brand, is all set to launch next month. Founder Akshat Chaudhary talks about the Surat-based brand that goes against the use-and-throw model of fashion.
Please tell us more about the birth of your idea.
My brother Aditya and I have been very passionate about denim from the start. As a new entrant into denim manufacturing, we kept on analysing new challenges that the denim industry as a whole was facing. We could see that there had been very little innovation in the denim segment from India, especially on the sustainable part-and surprisingly India is one of the biggest denim manufacturers in the world. We saw this as an opportunity to create, innovate and experiment new designs and structures and colours through our brand. 
Personally, I had been inspired by the denim culture in Japan for a very long time. I have been wearing Japanese selvedge denim for years, and whenever I buy a new pair of jeans, I still get intrigued by the graphical elements that it comes with. I wanted that Aizome should highlight new innovate graphic elements, and at the same time retain Japanese sophistication, minimalism and sustainability. 
It is only now that we see denim in different shapes, sizes and colours. But I have always associated denim with indigo-hence the name Aizome was born. It means indigo dye; Ai the colour indigo, and zome is the common term for dye.
Implementing any idea is not easy. So, how did you surmount those problems?
We strive to adopt new ideas, and back them with commitment and effort. We had thought of this three years back; but we knew that it would take lot of preparation and commitment so that we can be just to Aizome. It has not been easy, but we are glad that Aizome is ready to be launched now.
Why did you get into this? Was it because of passion and belief?
Our passion for denim is so ingrained in our system that we joke that it runs in our blue veins. We also believed that we will make an impact on society by demonstrating that sustainable clean jeans is possible, and it can also be fashionable. At a time when society believes in the "use & throw" model of clothing, we want to showcase how negatively the world is impacted by this. Aizome promotes 100 per cent transparency, and we would want Aizome jeans to be worn for years.
How do you see yourself (as an organization) now? Did you step in too early? Or maybe too late?
This is a great time to enter this market. This will be an era where new ideas and technology will be coming together. These are exciting times. People are now more interested in ethical sourcing, and also being responsible at the same time. But, there needs to be more awareness too. I hope we can help people become aware of the issues at hand.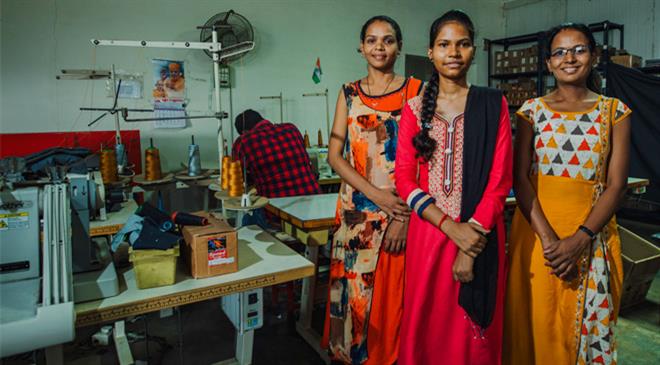 How would you sum up your own idea and understanding about sustainability?
My understanding of sustainability is the longevity of the resources we have. To ensure that we must reuse, recycle and reduce our dependability on economic, social and environmental resources. It is imperative to preserve natural resources, and to have clean air and water for all. The textiles industry is known to be a polluting industry. As a part of our commitment to the environment, we only use "clean chemistry" and develop business process using sustainable means in a transparent manner.
And how does your project fit into this understanding/idea?
Every garment produced is clean and sustainable. For example, in one Aizome jeans, the fabric is made using 100 per cent Fairtrade organic cotton yarn, and environment-friendly chemical recipes. Trims like buttons and rivets are free from nickel and lead, and labels, hangtags and packaging materials are made from recycled materials. We intend to maintain a minimal footprint on our ecosystem.
What role do you think that the overall cotton/textiles/apparel/fashion industry can and should play in overall sustainable development? In what way?
The textiles Industry needs to play a crucial role. Sustainability as a concept is still growing in the industry. The industry needs to come forward and find sustainable solutions in each category of the entire supply chain-right from the farm to the end product. This will help reach out to customers who are increasingly using "sustainable" products.
What do you yourself (both as individual and organisation) do to ensure that your own supply chain (both upstream and downstream, as applicable) remains sustainable?
We consciously make ourselves responsible for our entire supply chain. Our selection of materials showcase the fact that we are committed to sustainability and environment. We are already certified for GOTS for organic cotton denim and woven fabrics, GRS for recycled cotton / recycled polyester denim fabrics, and Fairtrade for 100 per cent Fairtrade cotton. We are a bluesign® system partner through which we intend to develop an input stream management of all raw materials, chemical components, water and energy to ensure a clean supply chain till the finished product.
The term "sustainability" has also become a greenwashing tool. Without transparency, sustainability means zilch. So, how transparent are you?
I believe sustainability and transparency are two sides of the same coin. Unless we create systems that are transparent, our journey towards sustainability has not even started. As a company, we ensure that our entire supply chain is clean, transparent and traceable. All of our organic, Fairtrade yarn is purchased through GOTS and Fairtrade-certified vendors following the required norms of traceability. We are a bluesign system partner now through which we will be able to produce fabrics using only clean chemistry, which has minimal impact on the environment. Our products are transparently produced and are also traceable.
Do you think Indian citizens are lagging behind in terms of awareness and lifestyle changes?
Indian consumers are increasingly being aware of using safe, hygienic and sustainable products. They are also becoming interested in knowing the environmental impact of the products that they buy. However, this is still growing, and it will take some time for the people to change their buying choices.
What are the challenges that you see ahead?
I feel the biggest challenge is the demand of sustainable products, especially in the Indian market. In a price-sensitive market, it will take some time to optimise the costs of manufacturing.