Automation is mandatory
Bierrebi designs and manufactures automatic machines that cut fabric into required patterns for the garment industry. Executive director Boban Charly, who manages the Indian and some part of Asian operations, converses about the growing market for cutting systems in India and the latest cutting solutions offered by Bierrebi to the fabric world.
What is Bierrebi's market share globally? What is the market share in India?
Our global market share is 3,300 cutting machines altogether. In India it is around 55 machines.
What is the global market size for garment machinery? What is the percentage of cutting machines?
The global market size is estimated to be $150 billion. Cutting machines are 20 per cent.
How would you describe the demand for cutting machines in India?
Automation is of great importance in the present scenario. It is mandatory due to many reasons, especially because of the nonavailability of good skilled cutters, less efficiency and productivity, and difficulties in manpower management.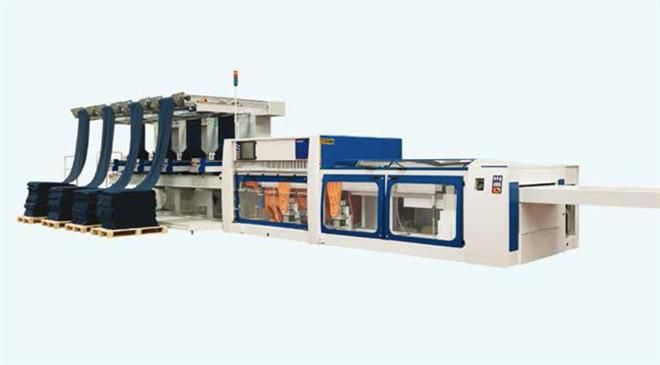 What factors are responsible for the growing demand? Which models are in demand in India?
Bierrebi machines are made for basic t-shirts and most of our American and Asian customers out of India are using Bierrebi machines to produce basic t-shirts. The demand for t-shirts is coming up as a trend in the Indian market like all other countries. The young generation especially prefers t-shirts over formalwear. We still believe that the Indian market will come up with a trend of cutting t-shirts with Bierrebi machines in the near future. At the same time, Bierrebi is very successful in the innerwear market and major players in India have adopted Bierrebi cutting system for their products.
Which are your major markets for cutting solutions for-knitted, woven, and nonwovens?
We are concentrating on knitted industry products, especially for tubular fabrics.
What latest innovations and technologies does Bierrebi plan to bring to India?
We have launched our 4th series of cutting machines equipped with an ERP connection system to monitor the production and Industry 4.0 for remote assistance that results in drastic reduction in power consumption and improved savings, quality and productivity.
What kinds of after-sales services do you offer?
We have a good team of skilled technical engineers who are trained from Italy to serve all our clients with a war-time urgency. Also, we have a warehouse at Tiruppur to meet the requirements of spares and consumables.
What is the sales turnover like? How much does Bierrebi India contribute to the group's annual revenue mix?
The Bierrebi Group (including Bierrebi International-USA, and Bierrebi Cutting Solutions-India for Asian operations) has a total sales turnover of approximately $12 million. Bierrebi India contributes 15 per cent to the Group's annual revenue.
What are the plans for Bierrebi India?
We are aiming to introduce many more machines to the market, and this will make the cutting process simple as well as economically worthwhile. Tubular is coming back with more strength, and we hope Bierrebi will get an open way upfront.