From farm to fabric and everything in between
Camira's expertise goes from farm to fabric and everything in between. The company makes fabrics for spaces and places from offices to universities, hotels to hospitals, for buses to trains. In an interview with Paulami Chatterjee, Ian Burn, Director - Marketing of Camira Fabrics, talks about the company's epic journey till date and the kind of expansion plans it has for future.
How has the journey been from Camborne Fabrics to Camira? Which new companies and capabilities have you acquired through the years?
It's been an epic journey, spanning five decades and five continents. Camborne Fabrics started in 1974 in the UK and at first worked with commission weavers before starting its own manufacturing in the late 1980s. The business was acquired by the US carpet tile company Interface, Inc in 1997, and a year later became Interface Fabrics until a management buy-out 9 years later led to the formation of Camira. There have been numerous acquisitions along the way to take the company into new market segments (eg British Furtex Fabrics Ltd and John Holdsworth & Co in the transportation fabric sector) or acquire new manufacturing capabilities (eg Teknit for technical knitting, Nortex for polypropylene yarn, Stork Brothers for woolen yarn spinning). The two most recent acquisitions are Holmfirth Dyers (piece dyeing and finishing) and Luna Textiles (a North American textile jobber), both in 2019. Along the way we've also become a global leader in environmental textiles, innovating a totally new category of natural fibre fabrics made from wool and harvested plants such as nettles, hemp and flax.
How would you describe the fabric market for the commercial interiors industry in UK? What factors have a huge influence on this sector?
The fabric market for commercial interiors covers a broad cross-section of end-use areas including commercial offices, higher education (universities), hospitality and leisure (hotels, restaurants, cinema and auditoria) and healthcare (residential care homes, nursing homes, hospitals, doctors' surgeries).
There are numerous factors which influence this sector, one of which is the so-called 'resimmercial' trend, which is a blurring of boundaries between the home, workplace, universities and hotels. Interiors have become more relaxed and less formal, fueling the growth of collaborative workspaces where larger pieces of ancillary furniture are the norm. As spaces have been opened up, acoustics have become a much bigger topic which has also raised wider discussions on health and wellbeing. And ofcourse on top of all this is the renewed emphasis on sustainability, thanks to the 'Greta' effect and plastic backlash.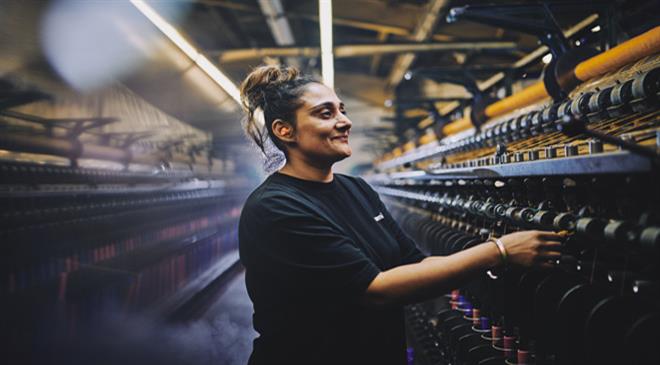 What is the market share of interior fabrics within the overall fabrics market in UK?
It is difficult to be precise about market share information due to the absence of formal market statistics and the blurring of boundaries between segments.
Has Brexit had any impact on the commercial interior's fabric market?
Brexit has generally dampened demand in the past 12 months due to the widespread uncertainties around supply chain and distribution issues.  
Where are your factories based at? From where do you source the raw materials?
The bulk of our manufacturing facilities are located in the United Kingdom in the West Yorkshire area. We have five factories where we spin wool yarn, make and weave air textured polypropylene, weave finished fabrics, and dye both yarn and woven fabric. Our technical knitting plant is in Nottingham and our major mainland European facility is located in Lithuania, where we weave fabrics and provide a wide range of upholstery services. 
We source materials globally as well as from the UK, working with select long-term partners who can fulfil our specific requirements, including quality, capacity, environmental and social parameters.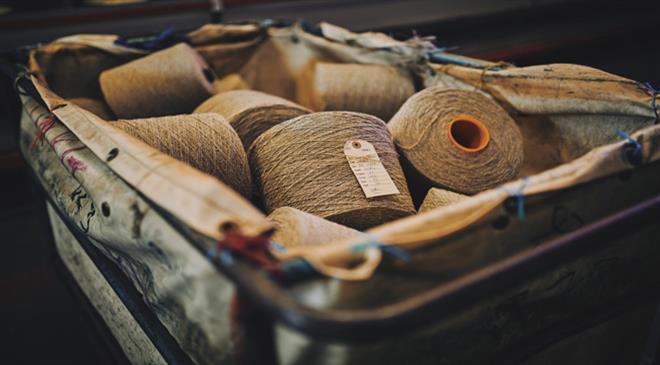 Which are your major domestic and export markets? Which new markets do you plan to explore?
Our largest market is in our home UK territory, but overall, we actually export more than we sell domestically, with exports around 65 per cent of our total turnover. Our largest overseas markets are US, Germany, the Scandinavia region, Poland, France and the Benelux region. We sell to around 80 countries every year. Our major focus is not on new geographic areas or market segments, but continued expansion in our core export markets in North America and Europe and continued progress in Asia Pacific and the Middle East and India.
Who are your major customers from each of the industry segments you cater to?
In commercial interiors, our direct customers are the furniture manufacturers who make seating, systems furniture and acoustic solutions. We also have important influencers and specifiers we need to reach, including furniture dealers, the architect and design community, design and build specialists, and we sometimes go direct to end-user clients. 
The passenger transport market (buses, coaches, trains) includes an equally wide array of customers: seat makers, refurbishers, vehicle builders, public transport operators, design houses.
What are your core competencies for export markets? Which fabrics and blends are popular in export markets?
We're a global organisation with a wide network of international offices and warehousing in strategic regions, so we're within easy reach of our global clients. Global distribution is a core competency and we have a very broad product portfolio, which - very importantly - can fulfil the multitude of flammability requirements in different regions. Environmental standards, such as the EU Ecolabel, OekoTex, and, increasingly, Indoor Air Quality are also very important. Our most popular fabrics at home and abroad are our felted wools (Blazer and Synergy) and our crepe weave polyesters such as Xtreme, Lucia and Phoenix. In the UK and North America, our colour-woven classic wool and wool blend dobbies are also very popular. There is an interest in surface texture, both finer and chunkier, and technical knits are on trend for task seating.