New colour management feature to be launched at FESPA
FESPA Global Print Expo 2019, to be held in Munich from May 14-17, is Europe's largest exhibition for screen and digital wide format print, textile printing and signage. Visitors can experience the latest products and innovations on display from over 700 exhibitors over four days. Exhibitions director Roz Guarnori gives a detailed overview and shares key trends expected at the show.
What can visitors expect from FESPA Global Print Expo 2019?
FESPA Global Print Expo 2019 will take place from May 14 to 17 at Messe Munich in Germany, covering digital, textile and screen printing as well as non-printed signage. There will be over 700 exhibitors filling six halls, ranging from major industry brands to smaller independent companies, providing visitors with an opportunity to engage and network with a broad mix of suppliers. Bringing together so many technology suppliers under one roof is what makes FESPA the leading destination event for international print service providers (PSPs) and sign-makers.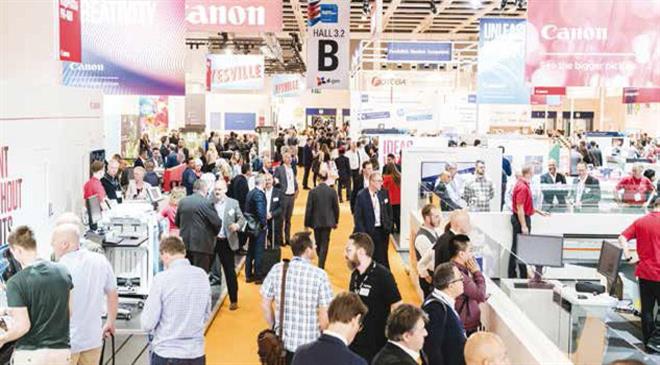 How many exhibitors are taking part in the expo?
Out of the six halls that FESPA 2019 will occupy at Messe Munich, two (B6 and A6) will be dedicated to textile printing. There will be over 170 exhibitors involved in garment decoration and manufacturing, including direct-to-garment, sublimation printing and screen printing. Exhibitors include Anatol, Hebbecker, Kornit Digital, MHM, M&R, ROQ and Vastex. We have a host of garment decoration companies exhibiting at this year's event for the first time. These include Dongguan Prosub Technology Co Ltd, Godalsp, InterStitch OÜ, Kingmo Colors Co Ltd, Wowshark Trading Co Ltd and ZSK Stickmaschinen Gmbh. There will also be exhibitors outside the two halls who will showcase textile printing solutions; so we recommend that visitors explore all six halls. For our full exhibitor list visit: www.fespaglobalprintexpo. com/welcome/Exhibitors_2019
What, in your opinion, will be the must-see stands for textile printers and garment decorators?
There are a host of 'must-see' stands for visitors to explore at this year's event. For direct-togarment printing, Kornit Digital will demonstrate its latest products for entry level and mass production, while exhibitors, including Aeoon, Brother, Epson, Impression Technology, Polyprint and Ricoh, will all have a strong presence at FESPA 2019. We are looking forward to seeing US brand Omniprint exhibiting this year for the first time in Europe.
As always, screen printing is well represented at FESPA, with automatic and manual solutions being demonstrated by MHM, ROQ, M&R, Hebbecker, Anatol, Vastex and Adelco. For visitors looking for opportunities in transfer and decorative print customisation, we have a range of exhibitors, including Transmatic, Walter Schulze, Siser, Forever, Chemica and Stahls, showcasing solutions in this area. Other major exhibitors include MS and its partners JK Group, Caldera and Kiian, which can be found in hall B6, as well as Mimaki. For visitors looking for both direct-to-textile and sublimation printing, Aleph, Roland, Epson, EFI and HP are certainly worth a visit. Cutting solutions for the customisation and production of digitally printed garments can be found across FESPA, with Hasler, Gerber, Zund and Summa the 'must-see' for the latest in automated cutting.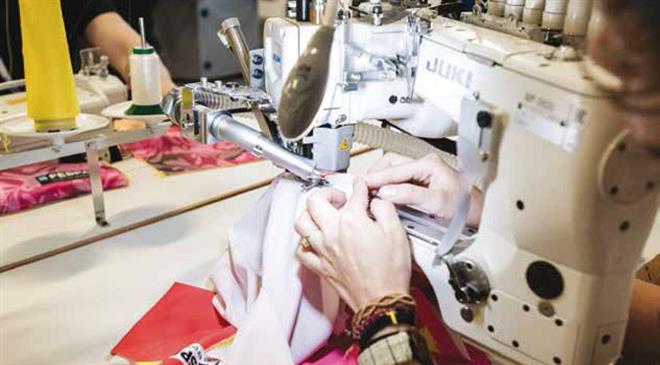 Can visitors expect to see any new features at FESPA 2019?
Yes, this year we are excited to launch our new colour management feature, Colour L*A*B*. This will be a technology showcase and supporting conference programme designed to help visitors improve colour management practices within their business. 
Located in Hall B4, Colour L*A*B* will offer visitors a structured, end-to-end overview of all the individual elements contributing to professional colour management, including monitors, measurement and calibration tools, lightboxes, software solutions and print output devices. 
The walk-through showcase will feature representative technologies from a range of specialist suppliers, supported by explanatory graphics and a printed guide outlining the processes and technologies. To show the importance of good colour management, test files will be used in live demonstrations to illustrate different printed outcomes across a range of media. 
Visitors are invited to participate in free, pre-bookable, guided Colour L*A*B* tours with colour management consultant Paul Sherfield, who will provide detailed explanations of the processes and answer visitors' questions on how they can improve their own practices. A conference area will also offer a focused programme of free educational presentations from a range of subject matter experts.
Are there any returning features to look out for? Have those developed since last year?
Following a successful launch at FESPA 2018, our interactive fast fashion factory, Print Make Wear, will return to FESPA Global Print Expo. Like last year, the feature will focus on fashion textiles, garments and printed accessories and will highlight every step in the screen and digital print production processes, from design to finished product. This year's feature will be double the size of last year's, with an even more comprehensive range of garment printing technology solutions and consumables.
Print Make Wear will also incorporate an area for presentations and debates as well as a catwalk for daily fashion shows. We have enhanced the visitor experience with two separate guided tours, one with a focus on directto-garment production and the other tailored to visitors interested in roll-to-roll production. We are excited to be working with illustrator Jasper Goodall on the designs for the direct-to-garment prints that will be printed in Print Make Wear, as well as with young fashion designer, Aminah Hamzaoui, who is collaborating with FESPA on the design of the garments being produced using the roll-to-roll technologies.  
Highlighting the possibilities of print for interior décor, Printeriors will be returning for its fourth year and will follow a similar format to FESPA 2018. This year, Printeriors will display for the first time both interior and exterior applications, as the feature will span the atrium of Messe Munich and the external hospitality area. 
The Trend Theatre will also return with seminar sessions taking place each day of the show, including daily panel discussions on trend-led content that will explore key areas in the industry. The full conference programme can be found online at https://www.fespaglobalprintexpo. com/trend-theatre.