We are always upgrading ourselves to face market challenges
J Korin started as a partnership firm with four powerlooms in the textiles hub of Surat, and is now a leading manufacturer and supplier of yarn. Its expertise lies in polyester and nylon mono filament yarn. MD Himanshu Jariwala speaks about the company and its plans.
Tell us briefly about your company.
J Korin has India's largest manufacturing capacity for mother yarn, mono filament yarn and cocoon. Our company had a modest beginning in the 1960s. We started as a partnership firm with four powerlooms in the booming textiles hub of Surat. With strong and experienced marketing and production teams, we are now a leading manufacturer and supplier of yarn and spreading wings all over the world. In collaboration with a Korean technical team, we are providing the best in mono filament yarn and mother yarn. Our expertise is in polyester and nylon mono filament yarn; we are also providing dope-dyed and textured mono filament yarn. This facility is available with very few companies in the world. Apart from this, we are pioneers in manufacturing cocoon in India. With the largest capacity of cocoons in the industry, we are catering to both Indian and foreign markets. We are also manufacturers of dyed yarn in spun, filament, textured, different blended and different type of fancy yarns. 
Our company is dependent on the experience, knowledge and management abilities of our promoters. Jitendra Arya has spearheaded the Jay Bharat Group since 1979 and taken it to great heights. Through his vast experience and vision, he intends to expand the group's presence not only in the domestic but international fabric industry as well for dyeing and printing needs. With an experience of over three decades in various businesses, the group has focused on technology-intensive partnerships. In 2005, J Korin Spinning signed a JV with a South Korean company and established the J Korin Group as a leading manufacturer of textile products in India. Rajesh Gupta belongs to the Jay Bharat Group, and has a rich and diverse experience of over two decades in the textiles industry. He believes in enhancing his personal knowledge and leveraging that to further the group's interest and growth. He aims to give wings to the group's dream of becoming one of the largest textile process houses in less than a decade. Kyo Kee Lee is a Korean national and belongs to the reputed Korin Group of Korea. He is a mechanical engineer with more than 35 years of experience in textile products and machineries. In this joint venture, he brings his valuable experience, advanced technical know-how, latest technology.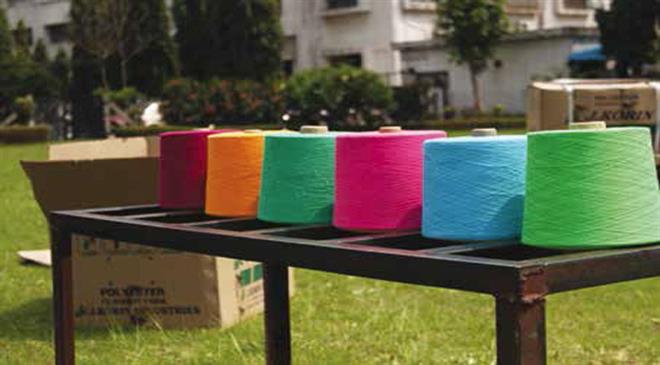 Which are your major markets?
Our major markets are India, Korea, Taiwan, Thailand, Bangladesh, Turkey, Egypt, Poland, Spain, Columbia, Peru, Mexico, Brazil, Ecuador and Guatemala.
Has Surat's textile industry recovered from the aftermath of GST and demonetisation?
The textiles industry has almost come out of the effects of GST and demonetisation. Both resulted in positive movement for business. The benefit of GST is now being seen, with its major impact being on small-time traders, weavers and units which were earlier tax-free.
How sustainable are your manufacturing units?
We are always upgrading ourselves to face market challenges. We upgrade by installing new machines, backward or forward integrations, providing quality products and presenting new products.
What is your production capacity?
Our capacity is: mother yarn: 810 MT/M; mono yarn: 650 MT/M; cocoon: 60 MT/M; dyed yarn: 175 MT/M.
What are your expansion plans?
Our last expansion was two years ago. Now looking at the high demand in market, we are planning for the next expansion and reach a capacity of 1,000 MT/M for mother yarn. We will also be introducing new products and enlarging our product portfolio.(PA)