Production of fancy yarns is a combination of art & science
Established in 2016, Surat-based Shree Ganesh Yarns is a manufacturer of fancy yarns for the domestic and international markets. The company develops different types of fancy yarns in synthetic fibres such as filament, DTex, and spun to name a few. Owner Priyanka Gandhi chats about the challenges and competition in the fancy yarn business.
What is the production capacity of fancy yarn in Surat? What percentage is exported annually?
Surat manufactures fancy yarns like slub, multi-count and multi-twist. The production capacity per day of such yarns must be around 100 tonnes in Surat. The annual export capacity must be about 50 tonnes.
Which are the major export markets? From which countries do manufacturers like you face competition?
Surat is the world's largest exporter of polyester yarn. The major export markets are Bangladesh, Pakistan, Turkey and South Korea. Manufacturers like us face competition from China, Vietnam and Indonesia.
Which are the top three application areas of fancy yarns in India and abroad?
Fancy yarns are used in suiting, shirting, dress material, upholstery and furnishing fabrics. In knitting industries, fancy yarns are used in t-shirts, innerwear and other garments.
What is the annual production capacity of fancy yarns? How many kinds of fancy yarns do you produce? What is your USP?
Our annual production capacity of fancy yarns is about 300 tonnes. We manufacture a large variety of fancy yarns such as poly-silk, poly-cotton, poly-linen etc. Poly-silk is our USP.
What are the advantages of fancy yarns over classic yarns? Is it easier to produce them?
Fancy yarns are those in which some intentional disruption is introduced for decoration, of colour and form. This interruption is incorporated with the intention of producing an aesthetic effect. For fancy effects in fabric, we also include metallic yarns. Fancy yarns are made from cone yarns by combining two yarns, slubs or differential bases. They are made by combining staple and filament fibres together. Different coloured fibres can be blended together and then spun as one yarn. They can be natural or manmade or a combination of both. It is very hard to produce fancy yarns, and it does decrease the production capacity of machines.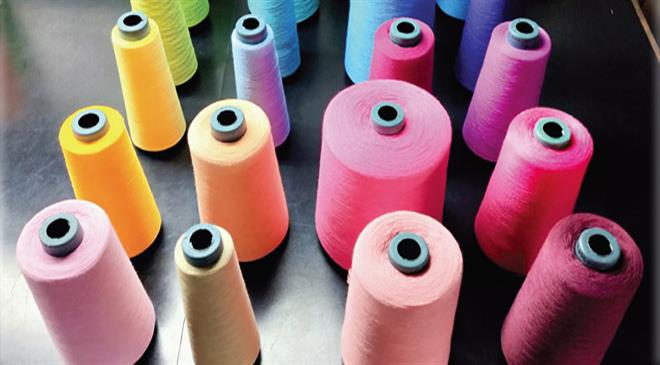 What new products can be developed in textiles using fancy yarns?
Products likes neps, slubs, poly-linen, poly-silk, poly-cotton, poly-satin can be developed.
How does your company overcome some of the limitations of fancy yarns?
It is extremely complex and difficult to make fancy yarns in sufficient quantities at low prices for mass markets. But with improved process control, market penetration is possible. We make compound fancy yarns which can be found in an unlimited number of varieties and textures. We combine two or three strands together so that one of them serves as the fancy or effect strand, other acts as the yarn core and perhaps a third one acts as a binder to secure the effect strand to the core strand. Binders are usually small.
What is the new yarn you are introducing?
We are introducing poly-viscose yarns soon. The production of folded yarns is expensive as compared to single yarns. All yarns are spun by using ring spinning and doubling by ring doubling or TFO.
What factors are responsible for the demand for fancy yarns?
Fancy yarn production has been differentiated at such a scale that it is almost impossible to categorise and standardise all the products. Production of fancy yarns is a combination of art and science.
Please share details of your last two fiscals, and the factors affecting your performance.
The fiscal growth for the last two years was ₹6 crore. Polyester is linked to crude prices and hence volatile in nature. It will continue to benefit over the medium term, from its established market position in the fancy yarns segment.
What kinds of spinning, twisting, wrapping, texturing and knitting techniques are popular for making fancy yarns? What new ones are you experimenting with?
Fibre effects for fancy yarns are created during the spinning processes prior to the formation of the final yarn. For texturing, they use slubs yarns; for spinning-two or three yarns are blended together; for twisting-twisting at 1000 RPM of texturisers, airtex or staple yarns.
What kinds of machines are used at Shree Ganesh for making yarns?
We use soft winding machines, hard winding machines, yarn dyeing vessels, auto hydro, and lab machines.
What is next in pipeline at Shree Ganesh?
Any capacity expansions planned in future? We are going to develop poly-rayon yarn for which we are expanding our unit to produce 200 tonnes annually. (HO)