Art and the craft
Teresa Neal, an art professional with 25 years of experience, in collaboration with Vida, an ethical clothing company, began printing her photographs to bags, accessories and clothing in 2016 giving birth to her label, Teresa Neal. The UK-based company now designs art inspired athleisure, bags, home textiles, and soon plans to come up with men's accessories. Fibre2Fashion spoke to Teresa Neal about the inspiration and the process of manufacturing her unique clothing and textiles.
How and when did you start Teresa Neal? What was the inspiration?
Teresa Neal began as a side business in 2016 when I collaborated with the socially conscious international fashion brand Vida. I had toyed with the idea of creating products from my art before, but this gave me the opportunity to test the water. I love the idea of practical art and communicating my ideas to a wide and diverse audience. Following a lifetime of art and design, transposing my art onto fashion garments enabled me to bring an artistic aspect to what then was a gap in the market.
How do you decide what pictures to use in the products? How is the collection curated for apparel, accessories and homeware?
I use images that translate to textiles. These differ from conventional photography because they need to have abstract elements, the orientation is important in terms of repetition and placement. The collection is curated by style, type of product and design. A right balance of art and product is a must.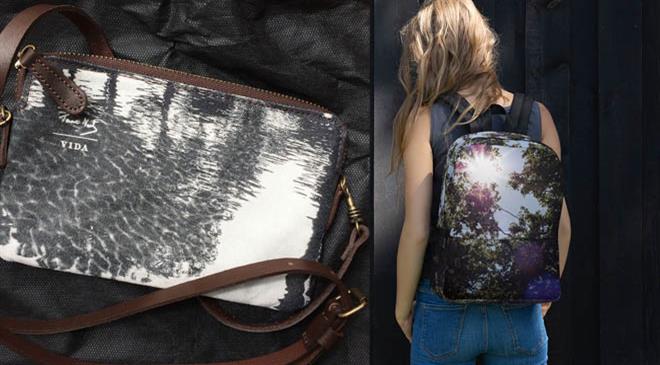 Where do you get your products made? What fabrics do you use?
I get my products made in China, India and Latvia. I prefer to use natural eco-friendly fibres and endeavour to have my products made ethically. I use cotton, silk and modal for the accessories and apparel. I use polyester for the activewear range of clothing and bags. I am very aware of the ethical implications of modern manufacturing. I am constantly researching suppliers to get the best combination of my art and the materials available. In that sense it is always evolving.
Which are your best-selling products?
My best-selling products are the long modal scarves, forest backpack, the clutch bags and the men's bespoke print socks.
Who is your target audience? Which are your major markets?
The audience is largely female professionals looking for affordable good quality products. However, the market is constantly changing and although women make up the majority of my customers, male customers are increasingly buying menswear and goods as gifts for women.
What techniques do you use for printing?
I use contemporary printing techniques for the products, i.e., sublimation printing, which uses heat to transfer dye onto the fabric, and digital printing.
What is your retail presence?
Our main retail presence at present is via different e-commerce outlets like ShopVida, Storenvy and the company website teresaneal.com. Our products can be purchased offline at local retail outlets pop-up events and artist-led venues . I intend to further build our retail presence over the coming year.
What new are you working on?
I am working on a new autumn/winter menswear accessories collection that would have pocket squares, socks and ties. I am also working on new prints using different techniques like transposing a hand print onto a digital design and creating a textile design. I will be launching a new range next year. (HO)