We are the first smart grid mattress in Asia
The Sleep Company was established to upgrade the sleep quality of every person. Its patent on smart grid technology is an outcome of years of research. Co-Founder Priyanka Salot discusses how the lack of a good mattress in the Indian market led her to design and make one.
When did you start The Sleep Company? What kind of research went into prototyping the right mattress?
We started working on this technology two years back. Three years back, I had become a mother and suddenly realised the importance of sleep. I was struggling to get sleep. Harshil and I tried to find something good. We struggled to find a decent mattress; we tried multiple options and were disappointed with the quality of mattresses in India. With a determination to find a solution, we travelled across to understand and research on different sleep technologies and how we could develop something which can be superior to what is in the market today. We looped in sleep experts and scientists from DRDO (Defence Research and Development Organisation) to work on a new technology and after two years of research was born the smart grid technology and The Sleep Company (with the mission to help upgrade the quality of sleep for each one of us).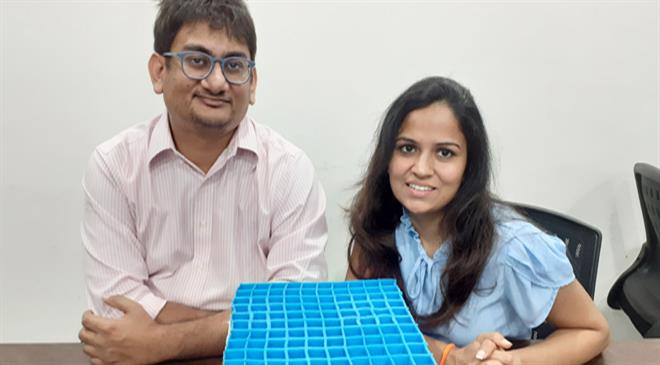 What was the initial seed capital required? Who are the investors?
Given the scale of R&D, we had to set up a manufacturing unit for making a smart grid and The Sleep Company mattress. We have invested around ₹1.5 crore of capital from our lifetime savings.
What is the market for mattresses in India? What is the average growth rate?
The mattress industry is estimated to be about₹10,000 crore and expected to reach ₹14,000 crore by 2021 (as per estimates of franchiseindia.com). This industry is going through a huge transformation with changing consumer behaviours and needs. We would see digital channels becoming more important with a focus on consumer needs and delighting the buying experience.
What is the USP of your mattress? What materials, fillers, and cover materials have you used?
The biggest disruption in sleep technology is our USP. We are the first smart grid mattress in Asia-it's a patent pending technology invented by our team of scientists after years of research. Smart grid has no memory foam, no coir, no spring or no latex-nothing that you have heard of in sleeping products. The smart grid has a column structure which intelligently takes the shape of the body. This happens as the walls buckle down on smaller body parts like hips and shoulders to cuddle them while staying firm on bigger body parts like the back to keep the spine straight. This ensures that you sleep all night, every night, no matter what your sleeping position is.