Do your application systems use special liquids and powders? If yes, please share details.
Compatible liquids for the WFA system are water-based, redispersible after drying, have a low viscosity (approximately < 100mPa*s), are shear stable, i.e., there is no breakage of solutions, emulsions or dispersions while using mechanical forces by the rotating rotor, form low levels of foam and result in no flaking or coagulation
Compatible powders for the WPA system are granulated flowable powders with a particle size of 10-40 µm. These are mostly natural starch powders or calcium carbonate.
What are the latest innovations in this industry?
The latest is our ProTec-encapsulated fluid application system to ensure clean work environment and to protect against harmful substances, unpleasant odours and risk of slipping.
How sustainable are Weko application systems?
The following attributes are proof of the sustainability of Weko systems:
-
Minimised use of chemicals, as functional substance is applied to the surface of the fabric, where it is needed.
-
No bath contamination or washing-out effects, thanks to contact-less application (less waste and disposal).
-
Reduced or even eliminated drying and energy consumption because of minimised application amount. 
-
Programmable application quantity in g/m² or per cent of the web weight.
-
Repeatable constant fluid quantity.
-
Highest web speeds at speed compensated quantities possible.
-
Clean environment due to encapsulated systems.
-
Long product life cycle and reduced maintenance/service workload.
Please share details of the last two fiscals and the factors affecting your performance.
One side of our constant growth is based on product reliability and our consultancy in advance of a buying decision. This results in a satisfied customer base that speaks positive about our products and helps our brand popularity.  On the other hand, we are designing customised solutions that are mostly not available with our competitors and this business is strongly growing in the evolved markets to diversify our customers business.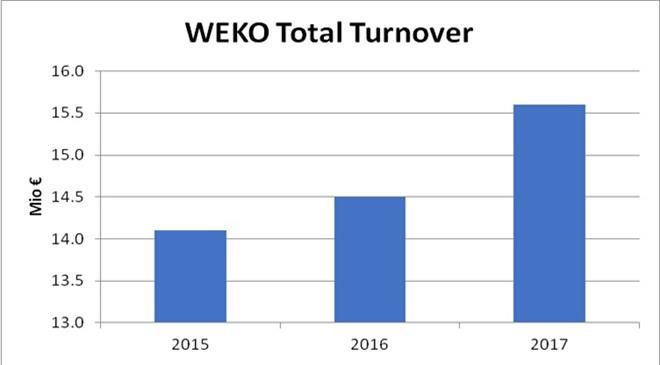 What are your thoughts on Industry 4.0? Are Weko systems integrated with IoT?
Our systems are mainly components for diverse machines. Weko offers optional access to all collected data via diverse interfaces, such as Profibus, Profinet and Ethernet. So, Weko is still usable in Industry 4.0 production environment.
What percentage of your revenue is earmarked for research and development (R&D) for the textile industry?
We could not really split our development efforts to a single industry or application as most new designed features are usable for diverse applications and industries. But as a high quality manufacturing company and technology leader, we have more than 14 per cent of our employees working in the R&D department. (HO)