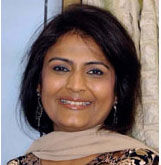 Ms. Geeta Singh
Director
A Klass Fashions

Company Details
Business Area:
Manufacture of Innerwear, Sleepwear and Casual wear
Turnover:
INR 250 million
Export Capabilities:
Innerwear: 600,000 pieces/month, Sleepwear: 10,000 sets/month
You have been in the Lingerie industry in India since some years now. How do you see Lingerie sector faring over the globe and in India?
We have been in the lingerie industry since 28 years. The lingerie industry has evolved in a very big way since the time we started. Until 1994 innerwear was only seen as a necessity, only basics and few floral prints on pastel color would be ultimate in the design element. What mattered then was only quality and fit which was crucial to keep the customer happy. If the fit was perfect, she was with you forever, which is the case till date with our customers.
Lingerie industry in India has exploded to an unfathomable scale. It is being seen as a parallel category with apparel and in retail as well. It is a mix of organized and unorganized manufacturing facilities. I would say it is only 2/3rd being unorganized and the balance 1/3th would be organized and branded. The unorganized market is all done with a minimum of 7 machines to 30 machines, operating from a small room, without adhering to the government formalities or proper systems in place.
Globally, the lingerie industry is way too organized, and have expanded their marketing network all over the world, and since about 5-7 years, they have seen immense potential for them to set shops in India, considering our population and demand with the recession so high internationally, they have now moved to more developing markets like ours.
The overall innerwear market is estimated to be Rs. 120 billion, and it growing at an average rate of 15% year over year. There is so much more potential to grow, if the scenario around would be more organized.
In volume terms, the men's innerwear is about 48% and that for women is at 52% whereas in value terms the women's lingerie segment enjoys 66% share of the total market. It's worth about Rs. 80 billion, and again has been growing at the rate of about 16.8%. This would be attributed to the rising disposable income and growing preferences for lifestyle products.
The lingerie market can be divided into four segments based on price points, at which they sell in the market. They are classified as SUPER PREMIUM, MID MARKET, and ECONOMY AND LOW MARKET SEGMENT.
(Contd.)
Published on: 16/03/2012
DISCLAIMER: All views and opinions expressed in this column are solely of the interviewee, and they do not reflect in any way the opinion of Fibre2Fashion.com.