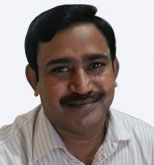 Mr. H S Singha
CEO
ABH Biochem Pvt. Ltd.

Company Details
Business Area:
Manufacturer of Textile Chemicals
What is the importance of textile chemicals in the textile industry? Discuss the market of the Indian textile chemicals in the domestic setup.
It is most essential part of the textile processing industry and given the raw cotton or textile material as useable or wearable with the colour and design.
Another important factor is the fact that almost all the products are subjected to seasonal demand and variation. So Industrial textiles and textile chemicals must rise up to meet all these new and specific technical requirements time to time.
Textile chemical includes the application of the principles of surface chemical to cleaning processes and modifications such as dyeing and finishing. It encompasses organic chemical in the synthesis and formulation of the products used in these processes. Without textile chemicals, we cannot improve the finishing of fiber/garments.
Now the textile chemicals market is becoming more aware about environment and eco friendly with latest development in the manufacturing. But the cost of products and the current financial and export conditions are not favorable and encouraging.
Only the quality products with new advance technology and the consistency of products and technical service in the supply can save the business and it can be only needed as water and energy saving technology based products.
Cost and the quality requirements are the main challenge in domestic market. The cost increases due to hike in freight and skilled manpower. Still the consumer-based network needs to be more focused on the low cost but quality products. Bad payments are also creating the bad debits in the domestic industry.
Cost of raw material, liquidity, payments on time and skilled work force with the right technology requirements are the main factors that influence the market of textile industry. The increase in cost due to the downfall of Rupee against dollar is also a big issue. But the positive side also is that the market is now getting ready to adopt the good and eco friendly technology for the saving of energy as well as water for better resources.
Published on: 28/01/2014
DISCLAIMER: All views and opinions expressed in this column are solely of the interviewee, and they do not reflect in any way the opinion of Fibre2Fashion.com.