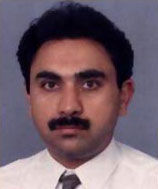 Mr Abid Farooq
CEO
Ali Akbar Spinning Mills Ltd

Company Details
Business Area:
Manufacturing, Export of Ring Spun Yarn in Grey + Dyed + Bleached + Ply
Export Capabilities:
Export: 550 metric tons/month, Domestic: 250 metric tons/month
Clientele:
Europe, Far East
What are your findings on current cotton yarn market performance? What are the factors governing, and issues affecting it? Are efforts of policy makers coming to aid the situation?
This year has been extremely volatile and consequently unpredictable for all the sectors of the textile industry across the value chain.

The main factor of concern and volatility has been the unprecedented rise and fall of the cotton prices and hence the ability of the industrialist and traders to make any rational decisions on a long term basis.

Cotton yarn spinners have obviously been the biggest victims of this speculative cotton market and have made decisions which have resulted in a major question mark on the future direction they should take.

Most of the spinners who had the financial ability and reserves to stock cotton at the beginning of the year had expected that cotton prices would remain bullish at least till July/August 2011 and accordingly maintained a chosen strategy of 'keep holding' yarn stocks, hoping to make major profit gains, especially when mills who had very little cotton stocks would eventually close down.

This strategy failed completely when cotton prices started falling prematurely and hence the immediate setback in not only yarn prices but also quantitative demand for yarn especially by Chinese buyers.

Once the sentiment changed bearish the market fell like a house of cards and many spinners have been left with enormous yarn stocks incurring huge financial constraints.

The situation for yarn prices is bottoming out now and there have been some feeble signs of demand for yarn at current prices but due to the availability of stocks, prices should not rise much in the next couple of months.

In any case what is required now is some sort of rational stability in prices of both cotton and yarn and then let market forces take care of the demand factor.

The best thing for the government to day is adhere to the free market mechanism. Any interference at this stage will again fuel unnecessary speculation in the markets.

It will take another couple of months for the markets to find a basis for supply demand equilibrium.
*******
Published on: 01/07/2011
DISCLAIMER: All views and opinions expressed in this column are solely of the interviewee, and they do not reflect in any way the opinion of Fibre2Fashion.com.