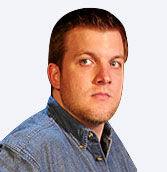 Logan Beam
Director of Marketing & Communications
All American Clothing Co.

What is the current ratio of fake 'Made in USA' clothes as compared to the original ones in USA? How easy is it to deceive consumers with fake Made in USA labels and how can the same be prevented?
The American garment industry has lost -85% of its labor force since the early 1990s (source: United States Bureau of Labor Statistics). Just 2% of the clothing purchased in the USA is American made (source: ABC World News). Based on these numbers, we can say that Made in USA clothing is an uncommon and unique product these days regardless of the ratio of fake Made in USA claims as compared to original ones.
It is fairly easy to deceive consumers with fake Made in USA labels. One thing to remember is that many organizations may not have the intention to deceive consumers. They may simply be unfamiliar about the origins of the product. This is why a process such as All American Traceability is so important. It ultimately provides an extra proof that the product is as American as apple pie. Similarly, a third party certifier such as Made in USA certified can be a something that makes shoppers more comfortable when searching for Made in USA products.
Steps such as Made in USA traceability and contacting Made in USA certifiers are both positive things that manufacturers such as All American Clothing Co. can do to showcase that their products are made in USA. Consumers can contact the FTC, reach out to third-party certification companies (Made in USA Certified), contact the manufacturer directly and ask for a 'Certificate of Origin'.
Thanks to the certification process through a third party, consumers know that when they see the certification seal that Made in USA claims have been confirmed, tested, and is factual. Certification companies offer another level of proof for made in USA consumers and businesses alike.
- Mary Christine Joy

Published on: 19/08/2014
DISCLAIMER: All views and opinions expressed in this column are solely of the interviewee, and they do not reflect in any way the opinion of Fibre2Fashion.com.