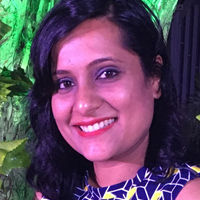 Smita Murarka
Head - Marketing & E-commerce
Amanté

Company Details
Which fabrics will be in trend for lingerie in 2017? What aspects are considered while designing for Indian consumers? How different is the market for lingerie in Europe or the US from that in India?
The most significant trend for 2017 is fabrics that are lightweight, yet strong and functional. Tropical prints, large-scale floral effects on laces and embroideries, open meshes and cotton crochet patterns are also in trend for early 2017.
Colour, styling and silhouette are vital differentiating factors when it comes to the South Asian market. Colours weigh heavily on South Asian culture. Some colours have notable religious or cultural significance while others are considered taboo. Then there are certain colours that trend internationally but may not be as flattering on olive skin tones.
We try to keep the silhouette straightforwardly stylish or focused on comfort. There is huge demand in the Indian lingerie market for non-wired styles. When it comes to styling, key technical features like wing width, cup thickness and fit must adhere to the curves of the South Asian woman. Price point is also important as we strive to make our product accessible to our consumers.
The global lingerie market is propelled more by basic everyday rather than the sheer, delicate intimate pieces we like to call true lingerie. However, the western lingerie market is more open to artisan boutique value in lingerie. Women are open to experimenting with different silhouettes like non-padded triangle bras, cut and sew construction and sheer fabrics in their lingerie. They are also willing to pay more for artistic detail and invest in statement piece lingerie.
Weather-driven fashion cycles and western lifestyle habits are significant to apparel design in the West. The changes in temperature and climate create a difference in consumers' emotions, which affects their purchasing behaviour. This change in emotions, brought on by the weather, make it easier to determine colours and fabrics for the season. For example, cottons and sheer fabrications are popular in summer as people are driven not only to stay cool, but by the aspirational idea of staying cool. The image that colludes to this aspiration are lightweight fabrics, cotton blends and linens in bright, fresh colours, crisp whites and uplifting small scale or travel-inspired prints. The colder weather of autumn calls for indulgence in cosy, plush fabric blends like heavy brushed textures, velour and modals. Smoothness and lightweight raw materials become more important due to layering. Deep lush colours like forest greens, maroons, and dusky blues are appreciated as they instil a sense of warmth and well-being.
In South-East countries like India, hotter weather is the most prevalent season and seasonal fashion cycles which we borrow from the West are important to be considered in trend, express fashion forwardness and to uphold style status. This filter is important to consider as it means that weather has less of an effect on the Indian consumers' emotions and so the basic key requirements of lingerie remain the same. Only the outer appearance changes.
Published on: 19/04/2016
DISCLAIMER: All views and opinions expressed in this column are solely of the interviewee, and they do not reflect in any way the opinion of Fibre2Fashion.com.