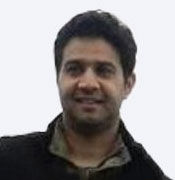 Vikas Purohit
Category Leader Fashion
Amazon India

Company Details
Business Area:
E-retailer for books, music, video games, toys, home & kitchen, luggage and backpacks, fashion jewellery, beauty products, movies & TV shows, men's inner wear and sports, fitness & outdoors and pet supplies
Turnover:
US$ 74.45 billion
India has been one of the fastest growing markets for Amazon. Amazon.in has grown exponentially to become the country's largest online store in terms of selection. The Amazon.in fashion story:
In a span of less than 20 months, Amazon.in today e-tails more than 18 million products across 37 departments and hundreds of categories. We have witnessed phenomenal selection growth across several categories and are already the largest store in 12 of the 37 including books, music, video games, toys, home & kitchen, luggage and backpacks, fashion jewellery, beauty products, movies and TV shows, men's innerwear and sports, fitness & outdoors and pet supplies. We started with over 100 sellers and today this base has grown to more than 14,000 sellers. Alongside, we have been focused on delivering a great customer experience. We were the first ones in India to introduce premium guaranteed delivery services including the 'One-Day Delivery' service. Within a short time we have been able to make available over 400,000 products for next day delivery across some of the 19,000 pin codes through 140,000 post offices across all 35 states and Union territories. A total of 7 Fulfilment Centers (FCs), with a total storage capacity of half a million square feet, in Maharashtra, Karnataka, Haryana, Delhi, Tamil Nadu, Gujarat, Rajasthan are currently operational. More than 60 per cent of our customer demand is already eligible for next-day shipping. More than 50 per cent of orders on Amazon.in come from outside of the top 8 metros.

We stepped into fashion with the launch of fashion jewellery and watches in September 2013. Since then the selection has grown across several categories and today we have a wide selection of apparel including denims and lingerie. Amazon.in has also partnered with www.thetrunklabel.com and www.theclosetlabel.com, which have signature style merchandise of renowned film celebrities like Malaika Arora Khan and Bipasha Basu under the brand name The Closet Label and The Trunk Label. These are now exclusively available on Amazon.in apart from its brand sites.

Our recent strategic partnership with the Future Group is to create an omnichannel distribution and marketing network for Future Group brands.

We launched the Amazon mobile shopping app for Android and iOS phones within a couple of months of our India launch and last month we also launched the Amazon Shopping app for Windows Phones. At present, nearly 50 per cent traffic comes through mobiles and there is a sharp increase in customers as well as quantum of shopping on our apps. Additionally, the repeat rate of customers is very healthy indicating a good shopping experience.

The vision at Amazon.in is to be India's most customer-centric company by giving customers more of what they want - low prices, vast selection, fast and reliable delivery, and a trusted and convenient experience - and provide sellers a worldclass e-commerce platform.

Published on: 27/11/2014
DISCLAIMER: All views and opinions expressed in this column are solely of the interviewee, and they do not reflect in any way the opinion of Fibre2Fashion.com.