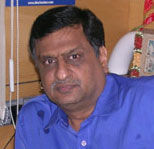 Mr. Anil Buchasia
Director
Amrit Exports Pvt. Ltd.

Company Details
Business Area:
Work wear manufacture and export
Export Capabilities:
250,000 garments/month (100% exports)
Clientele:
West Europe - Spain, Portugal, Italy, France, Austria, Denmark, Sweden, Holland, etc.
How is the work wear garment industry faring currently in India & abroad? What are the determinant factors? What initiatives from the government can boost the potential of this industry?
Work wear is primarily being exported to Europe which is currently in the middle of recession. Europe is a very cultured continent where people like to wear a particular dress while performing a particular function; they like to be suitably attired.
However, work wear is a segment where India does not contribute majorly. It is basically done either in North Africa, East Europe or China. There are very few companies in India that have entered into this field; India is not contributing to the extent it could have or should have contributed. There is a lot that is unexplored and left to be done.
We need to have a more serious base into it. Work wear is very different from fashion garments in the sense that it is a garment that is not susceptible to change with fashion; it does not have seasonal collections. The garment runs through the year, rather over the years. Secondly, it has some minimum quantities associated with it. And, most importantly it is a functional garment and requires a lot of technical expertise e.g. Fire-retarding garment used in different industrial activities and all must be as per European norms. Besides, these garments are very price sensitive.
I think there is a lack of awareness about this product in India and that may be a reason why it is not explored till now. If the Government of India takes it up as a sub focus product within garment (which is already a focus product), and if incentives are offered for this product, may be this product could catch up.
Talking about the growth, at this point in time, it is very difficult to project what growth should be expected. If apparel exports are worth USD 15 billion, work wear would be contributing not more than USD 200 million. So, in terms of percentage it is very negligible. We are still at a very nascent stage to discuss about growth figures or future projections. We still need time to mature in order to discuss these (growth) figures.
However, as per estimates, Germany is roughly expected to have a work wear market worth approximately EUR 2 billion. Extrapolating the fact that Germany is 1/5th of the European Union, I would assume there is a market of almost EUR 10 billion in Europe. Against this, we are not even contributing 1%. This is the hope that this business can generate.
*******
Published on: 13/07/2012
DISCLAIMER: All views and opinions expressed in this column are solely of the interviewee, and they do not reflect in any way the opinion of Fibre2Fashion.com.