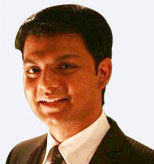 Mohammed Monabber Ahmed
Director of Planning, Yarn Procurement, Knitting & Commercial
Anowara Group

Company Details
Business Area:
Readymade Garment Manufacturer
Export Capabilities:
150,000 pcs T Shirt daily
How do you look at the current market scenario of T-shirts worldwide and what are the changing trends in this segment?
We are witnessing a rapid increase in market demand for t shirts worldwide and t-shirts made with light weight fabrics are in demand since light fabrics are in fashion. The major export markets for Bangladesh t-shirts are the US, Europe and Japan.
Though it was difficult to move the needles during the recession time in 2009 in traditional markets, such as the US and Europe, the volume of order has picked up in these two countries.
Japan is a new market for Bangladesh clothing sector as the country has introduced a new policy of China + 1, so many of the Japanese textile manufacturers are shifting from China to Bangladesh.
Another reason for the rise in exports of Bangladesh readymade garments is due to the industrial shift in China from textiles to technology mainly because of the increasing production cost in the country.
Some of the major challenges faced by Bangladesh clothing industry are electricity and rising cost. Due to energy crisis, apparel factories are not able to expand their production units. As the cost of production is increasing every month, the margin is going down.
The total knit wear exports of Bangladesh were US$ 10.48 billion last year and out of it our group exported goods worth US$ 34.98 million.
In next 5 years, I feel the market is going to grow. As more Orders will shift from China to Bangladesh.
- Ilin Mathew
Published on: 10/06/2014
DISCLAIMER: All views and opinions expressed in this column are solely of the interviewee, and they do not reflect in any way the opinion of Fibre2Fashion.com.