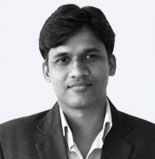 Vivek Kumar Rawal
CEO
BioRe India Ltd.

Company Details
Business Area:
Organic cotton
How is the demand for Indian organic cotton in the world market? What is the contribution of bioRe towards the development of quality organic cotton?
At bioRe, we believe that Organic farming is sustainable farming as it creates balance between the forces at the farm. Farmers are coached and motivated towards careful use of natural on farm resources such as soil, water, biomass and livestock. Organic farming is not just treating plant, but it is all about working with soil and working to keep the life of soil intact. It requires considerate capacity building of farmers as well as continuous investment in extension, research and social aspects.

bioRe was pioneer organic cotton project in the world. Since 1991, we have been trying to develop and achieve best possible standards of ecological and social textiles. bioRe is not only known worldwide for promoting organic cotton cultivation, but also for linking its farmers with the retailers and consumers due to its transparent systems, define standards and traceability. We are also known for efforts to help farming community with several social projects such as community schools, mobile hospital, Co2 projects, livelihood promotion through handlooms, training and research and most important part which is developing quality Non GM cotton seeds and preserving desi cotton for organic farmers to make the self dependent on seeds.

Since one decade, the organic cotton production has increased manifold in India. In the recent years, there has been sharp decline in the demand of Indian organic cotton. However, India still remains the largest supplier of organic cotton in the world. This decline can be due to GM cotton contamination in organic cotton and emergence of some marketing driven alternatives to conventional cotton. Although, some brands have become serious about the issues at the farming level and are trying to bring traceability and have started addressing the real issues of their organic producers. I am hopeful that the demand for genuine Non GM certified organic cotton demand will pick up again.

I personally think that Indian organic cotton is facing problem of trust today, due to mushrooming of organic cotton projects, short cuts adopted by some producer organizations and "known ignorance" of minimum required norms. Over supply has resulted in payment of no premiums to organic farmers and organic cotton is sold almost at the conventional's price. Genuine organic cotton really requires special efforts from seeds until fabric, and it should be valued for that. We at bioRe provide purchase guarantee of cotton and organic premium to our farmers which we can afford because of our long term partnerships with our clients and transparent and quality system of functioning, audited by independent institutions at every stage.

Published on: 04/04/2014
DISCLAIMER: All views and opinions expressed in this column are solely of the interviewee, and they do not reflect in any way the opinion of Fibre2Fashion.com.