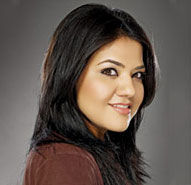 Ms. Vidhi Shah
Entrepreneur & Creative Director
b:Kind

Company Details
Business Area:
womenswear manufacture and retail
Clientele:
400 retail stores in India and 100 stores in UAE, 185 MBOs in India and parts of UAE as well
Can you please draw an overall picture on world RMG market and latest moves in womenswear segment?
When we talk about world RMG segment, it has got a lot to do with fast fashion. Gone are the days when we had just two seasons. We have a really big sale coming up every 2 weeks; there are small players as well who come out with their new collections every month. So the entire world RMG retail market is following fast fashion.
Personally, I feel it is, in a way, not very environment friendly but it's a scenario that persists, globally.
The consumer behavior today has become more want-oriented than need-oriented. People don't really need anything today; they just walk-in to a store and if they like something and want it they just go ahead and buy it. It's more of impulsive buying these days that is observed among consumers. They are not even loyal to any brand as such. If they like it, they pick it up; it's as simple as that. Earlier people were loyal to a particular brand and would wear the same brand apparels for the longest time. But today, anything and everything is acceptable. There's no loyalty. People buy what they like irrespective of the brand name.
People are also imitating each other. If a brand does something, the other brand has to do it. So, it's a copy cat kind of approach that is being observed among brands as well. Because of this ,the dressing and apparels have become so common that you see people wearing the same clothes or brands having similar collections in their stores. There is no individuality and people are copying each other's dressing styles.
Earlier, if a luxury brand had something in its summer collection, it would be seen copied by another brand which is a level below in the next season. But today, if a celebrity is seen sporting something from a particular luxury brand, tomorrow another brand will have it in their store because then it's mass produced and available easily as well. So this has become more of a global phenomenon. It's very easily accessible, very easily available and every customer gets the benefit.
The growth potential is at the peak right now. I don't think there's anything that's stopping any brand today. It's not about leaving money, but it's only about making money, now and in the future. So if you are in the rat race and if you run speedily you might as well win the race.
I don't really see any factors declining the growth unless the world scenario is really down like it is seen right now. The sales are happening but at the same time there are huge stocks lying with you so it's a little difficult to calculate the profits.
*******
Published on: 13/02/2012
DISCLAIMER: All views and opinions expressed in this column are solely of the interviewee, and they do not reflect in any way the opinion of Fibre2Fashion.com.