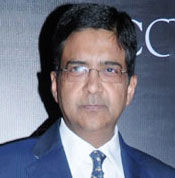 Mr Abhay Gupta
Executive Director
Blues Clothing Company

Company Details
Business Area:
Luxury fashion & Lifestyle and Home Interiors
Clientele:
India (Delhi, Mumbai, Bangaluru)
How do you see apparel brand retail taking shape in India? What are the spending traits, product preferences as well as determinants to these traits?
The current market size for luxury products in the country is around USD 1.5 billion. A regression based on India's GDP per capita and Number of HNIs, indicates that the size of the Indian luxury products market should have been around USD 3-3.5 billion. This implies that there is a latent demand of almost USD 1.5-2 billion. As percentage of the current market size, India's latent demand is estimated at 120-150% while for China it is estimated at only 10-15%. (A.T. Karney report'10)
Sentiments are positive and there is willingness to spend on high-end luxury products. If the current economic conditions remain the same in India, luxury retail will see a rise.
India, as a market, is seen as a key economy for all International brands which also explains the influx of brands in the Indian market. The audience in India is out going, have the power of money, well traveled and fashionable. The focus from just dressing to power dressing has been clearly seen, increasing number of customers are spending more to get quality, international styles, up to date trends and brand names. The future is only bright from here on.
The customer today is definitely more aware about fashion. More focus on design, detailing, and high quality are being paid. Blues Clothing Company has established a reputation of successful Indian partners to International luxury brands. To take this legacy forward, we have branched out into Blues Home- a one stop shop for all interiors segment requirement, to tap into the growing requirement and trend of shopping for luxury home furnishings.
(Contd.)
Published on: 23/08/2011
DISCLAIMER: All views and opinions expressed in this column are solely of the interviewee, and they do not reflect in any way the opinion of Fibre2Fashion.com.