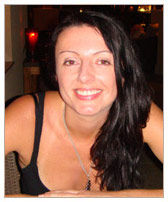 Loretta Kiss
Owner
Blushandbloom.com

Company Details
Business Area:
Maternity and non-maternity brands, lingerie, swimwear, practical breastfeeding accessories, chemical free pregnancy skin care and shapewear
Clientele:
Expectant mothers
How do you rate the demand for maternity clothes in the fashion sector? Why do certain retailers do not prefer to have a separate section for it? Is it expensive?
I have customers calling me all the time, looking for stylish dresses that are both original in design and super stylish. The modern woman is educated, sassy, intelligent and stylish. She will not settle for poorly made products that aren't on trend. She is also a discerning buyer that is both pennywise and savvy, insisting on the best quality garments that are both stylish and affordable. Women are taking longer to have babies now and working hard in their careers. When the time comes for them to have a baby, they wish to maintain their sense of style and identity. Wearing stylish clothes during pregnancy and beyond helps to enforce who they are. For them, fashion, elegance and style is a part of their everyday life and being pregnant does not change that.

Maternity fashion is a very niche segment of the fashion industry. Understanding a woman's needs during pregnancy requires trained staff both in buying the styles and selling them. Many retailers are not prepared to invest the time and money into maternity fashion and training their staff properly. The same applies to maternity and nursing lingerie. You'll be very hard pressed to find a decent maternity and nursing bra specialist in any department or large retail outlet anywhere. It's normally smaller boutique stores that specialize in this sort of work simply because they have a passion for it, and have acknowledged that pregnant women deserve special attention in the fashion industry.

I think that there is a misconception about the price of maternity clothes and the demand. There are cheap and expensive options in any line of fashion and there are maternity styles and fashion brands that suit all types of budgets. There is also a growing demand for maternity clothes, and the more women realize that maternity fashion is affordable and stylish, the more the demand will grow. Demand is definitely growing as the misconception of maternity as a luxury item declines. In the past, many women have felt less inclined to buy maternity clothes as they were worried that they will not get enough use out of the style. However, this attitude is changing as they realize that good maternity clothes do not need to be expensive.

Published on: 11/03/2014
DISCLAIMER: All views and opinions expressed in this column are solely of the interviewee, and they do not reflect in any way the opinion of Fibre2Fashion.com.