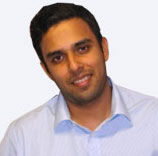 Akshay Narvekar
Co-founder
Bombay Shirt Company

Kiosk marketing is a good means of marketing in the Indian apparel market. Isn't it? Does it help small and medium enterprises?
In the kind of business that we are in, some of the barriers that we face with online retailing is that customers are reluctant to take their own measurements. There is also a need for touch and feel of the product. This is where kiosks can play a role. We don't require a large format store to fulfill these requirements. One can get their measurements taken, and get their outfits designed for the perfect looking shirt.
Kiosk marketing is especially helpful for small and medium sector enterprises because such companies cannot afford to have large size brick and mortar stores. It is preferable for smaller enterprises to have at least a small presence in a good location. Kiosks can help immensely here, as it is one of the cost effective means to have a hybrid business marketing model.
Hybrid business model is important, depending on the nature of the business that you are in. For apparel companies, you cannot expand business just with online retailing. Touch and feel plays an important part here. Online retailing is also important to reach a vast number of customers. Hybrid model for retailing (i.e. having both online and offline presence) is necessary for business expansion.
- Mary Christine Joy

Published on: 29/04/2014
DISCLAIMER: All views and opinions expressed in this column are solely of the interviewee, and they do not reflect in any way the opinion of Fibre2Fashion.com.