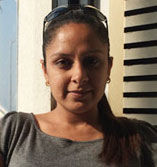 Nitisha Kapur
Head of Marketing
Breakbounce Streetwear

Company Details
Business Area:
Streetwear fashion
How is the market for streetwear faring in India? Is the demand same as in the other developed countries of the world?
The Streetwear phenomena has come a long way and originated from many urban street influences. It combined fashion with art, self-expression and communication, and soon influenced current fashion that stood for different things across different eras. From the streets of New York and LA, to the sartorial influences of European street fashion, to the surfer influences of Australia; modern urban streetwear stemmed from sub-cultures across the world. The trend soon evolved with street artists launching streetwear brands, like Obey by Shepard Fairey and Echo by Mark Echo. Seeing its growing popularity and immediate connect with the urban consumers, large retailers and brands like Diesel, A&F, H&M, and Uniqlo started drawing influences from street culture.

Today streetwear has become the ubiquitous expression of youth around the world and has translated into an international phenomenon. Continents and countries have begun developing their own distinctive style that reflected their own cultures. However, in India, most fashion brands still lack individualism and are reinvented versions of each other. These leading brands are denim stories, outerwear stories, footwear stories or tee stories. What was missing was a holistic approach to fashion for men. Breakbounce Streetwear fills a much needed gap in the apparel market by providing current trending streetwear to the Indian youth. Breakbounce Streetwear is fast fashion that focuses on detailing, style and quality across product categories.

While streetwear as a genre is at a nascent stage in India, the demand for fashion that helps the youth make an individualistic style statement is staggering. Breakbounce Streetwear is all about individualism not just in terms of TG but even as a brand in its own standing. In a plethora of casual, smart-casual, sporty casual, etc., India needs a youth fashion brand that is not just another rendition of everything else. We took from the streets and gave it right back. Cut, folded, spun, threaded, knitted and stitched.
Published on: 08/04/2014
DISCLAIMER: All views and opinions expressed in this column are solely of the interviewee, and they do not reflect in any way the opinion of Fibre2Fashion.com.