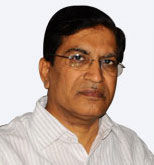 J.C.Soni
Business Head
BSL Suitings

Company Details
Why is Bhilwara an ideal location for the manufacture and export of poly viscose suitings? Can you describe a bit about your journey in Bhilwara?
Bhilwara is one of the major producers of viscose dyed yarns in India. Around 70 percent of the viscose dyed yarn of the country is produced here and in the nearby regions. This enables manufacturers to produce good quality suiting for a lower price. The suitings made in Bhilwara are popular, both in the domestic as well as international markets. Around 20 percent of the suitings manufactured in these regions are exported. The town has grown into a poly viscose manufacturing town in the recent years.

When the idea of manufacturing poly viscose suiting was a unique concept in India, the second member of the LNJ Bhilwara Group, BSL Ltd., was born in Bhilwara of the desert state of Rajasthan. The year was 1971! Over the years, with the belief that there are no shortcuts to excellence, BSL has moved from strength to strength. Today, as a multi-million dollar company and having put the group firmly on the international map of premium suitings, we are one of the prominent members of the US$ 900 million LNJ Bhilwara Group. With over quarter of a century of experience in textile manufacturing, BSL is currently producing over 18 million meters of fabric every year. Product profile covers wool, wool-blended and premium lightweight fabrics, to wool modal, Trevira wool and other specialized fabrics blended with lycra, silk, linen, tencel, etc. Our commitment to quality through technology and human ingenuity, has earned BSL numerous awards like the National Certificate of Merit for outstanding export performance. We are ready to meet challenges in the years to come and take BSL to higher pinnacles of success. BSL products are manufactured under IS/ISO 9001-2008 the quality management system in accordance with IS//ISO-9001-2008 and this unit is accredited with environmental management system IS/ISO 14001-2004.


Published on: 12/06/2014
DISCLAIMER: All views and opinions expressed in this column are solely of the interviewee, and they do not reflect in any way the opinion of Fibre2Fashion.com.