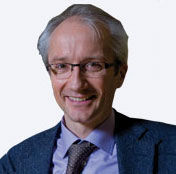 Martin Kagi
CEO
Buhler Group

Company Details
Business Area:
Spinning (Supima-cotton, Micro Modal & Tencel)
Clientele:
quality oriented circular knitters and weavers, suppliers to the apparel and home furnishings industry
Give us an insight about the Swiss yarn production market and how do you foresee the global yarn production market over the years?
Unfortunately, our industry became very small in the twenty years I am with Buhler. When I started in 1994, there were 25 spinning mills in Switzerland. Today, only 3 are left. However, I am convinced that the negative trend will not continue.
The mills that are left are highly specialized and have proven to be very good survivors in the recent financial crisis. For the coming few years, I expect our industry to grow and improve earnings. The European economy is foreseen to grow again in the coming years which will certainly have an additional positive influence as the Swiss textile industry exports about 90 % of its products, mostly to European countries.
The challenge is our high labor costs. This problem is even more pronounced since the Swiss Franc has gained 25 % in value compared to the Euro and US-Dollar in the financial crisis. However, we also have cost advantages in Switzerland as fees and taxes are reasonable, infrastructure is excellent and interest rates are low.
Another advantage is that Rieter, our most important machinery supplier, is located in the same town, which makes cooperation easy. We closely cooperate in the development of new technologies, which helps us to stay ahead of the curve what new developments are concerned.
The most important advantage however is our committed employees who make it possible to produce a typical Swiss quality product.
The bulk yarn production will remain in low labor cost countries. As China has become more expensive, the strongest growth will occur in other Asian countries.
However, there are opportunities in the "old world" too. Let's take the US with reasonable labor costs combined with cheap energy and locally available raw materials have attracted new investments in spinning mills (mainly open end). New and more efficient technologies like air-jet spinning can improve the competitiveness of mills in high labor cost countries also.
Continuous innovation and the advantage to produce close to the customers are reasons why it remains possible to produce even in expensive places like Switzerland. Key is innovation, outstanding service, short lead times and – of course – Swiss Quality.
Published on: 13/01/2014
DISCLAIMER: All views and opinions expressed in this column are solely of the interviewee, and they do not reflect in any way the opinion of Fibre2Fashion.com.