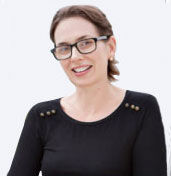 Tracey Montford
Creative Director
Cake Lingerie

Company Details
Business Area:
Maternity lingerie
Clientele:
Celebrities like Ali Larter, Candice Alley, Carly Zucker, Christy Pereira and many others. Mainly expecting women from UK, USA and Australia.
How is the market for maternity lingerie in countries like US, UK and Australia? How is it different from Asian Markets?
The US, UK and Australian markets are very strong. These markets like colour, prints, lace and pieces that are a bit more playful. Each market has its differences though – the US for example does tend to prefer the smoother cups with the playfulness done in the straps, lining frame of the bra to enable the bras to be versatile and worn under t-shirts.

The UK market tends to be the most adventurous with lace, colour and prints in high demand. There is a significant aspirational market in the Asian countries due to the infiltration of western culture and brands. Whilst the designs are loved the product does need to be specifically created to suit the Asian woman, whose body shape, structure is quite different.

Maternity bras are not always given good exposure in Lingerie stores. They can be sometimes found in the back of the store or hidden away. I believe this is because they have been traditionally not very attractive or appealing. This is starting to change and we have noticed a real shift in how people perceive maternity lingerie. Maternity bras are being designed better and tend to look more attractive know compared with 10 years ago.

I think there is always going to be a segment of the market that does not want to invest in maternity wear and will make do with the existing bras and clothing. Having had children, this would be extremely uncomfortable as the body is undergoing significant change.

There is no doubt that there is a lot of pressure on pricing due to this matter which had lead to the infiltration of several sub-standard maternity bra brands selling the dream but not being able to offer the fit, support & functional elements of a good maternity bra.

The maternity wear segment continues to grow. Higher birth rates, education, strong globally supported views on the benefits of breast-feeding are some of the many factors that lead to this.

-Manushi Gandhi

Published on: 27/06/2014
DISCLAIMER: All views and opinions expressed in this column are solely of the interviewee, and they do not reflect in any way the opinion of Fibre2Fashion.com.