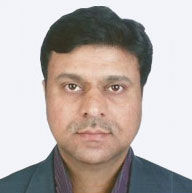 Makarand Palorkar
Area Manager (Asia Region)
Candiani Denim S.p.A

Company Details
Business Area:
Denim Producer.
Export Capabilities:
Around 30 million mtrs per annum.
Clientele:
G-Star, Tommy, Inditex, 7 for all mankind, Replay, Diesel, Levi, Bestseller to name a few.
Do you think there is still a lot of gap between the global demand and supply of denim? What is the growth rate in denim making industry?
We feel demand for good denim is outperforming supply. There is at times excess supply felt, when some feel - fashions moving toward flats/bottom weight, but to my understanding denim has transformed to be all seasons fabric.

However, denim has been evolving and especially in the last decade, so for the mill like ours, there is constant push to create something new, so here we do not race against demand supply economics. Size of our production and customers we have to cater is fairly balanced. On other side, we now find some promising brands in developed market and emerging markets - who want to buy special fabrics from us.

We feel denim demand globally is growing (close to 18%) as more and more applications are being explored from denim cloth. So results have been encouraging for new players, thereby production on other hand is growing – of course with sustainable technologies in dyeing & finishing. On a positive note, there is business for everyone!

Denim capacities are growing close to 8~10% and mostly in APAC zone, so we can say - there is some shift of production base, apart from new units or additional being put up by existing players. Major import/consumption base has moved to countries like Bangladesh, Africa, Turkey, Mexico, America.
-Manushi Gandhi
Published on: 12/08/2014
DISCLAIMER: All views and opinions expressed in this column are solely of the interviewee, and they do not reflect in any way the opinion of Fibre2Fashion.com.