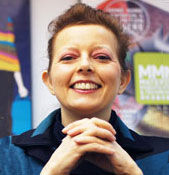 Ms. Perrine Ardouin
Event Director
Cashmere World

Company Details
Business Area:
Exhibition Organizer
How big is the market for cashmere in the global wool industry and how do you look at the prospects of cashmere sector this year as compared to last year?
Cashmere is one of the world's rarest natural fibres with a market size of 15,000 tons or approximately 1 percent of around 1.3 million tons wool produced worldwide. The main regions with high demand for cashmere products are the northern industrialized countries, such as Northern Europe, United States, Canada, with more demand emerging in China, Japan and other Asian countries seeking the luxury afforded by cashmere garments.
The countries which are famous for quality, heritage and tradition of cashmere fibre are Italy and Scotland, where the cashmere industry was born in its present form in the mid 19th century. There are also manufacturers in the United States and other European countries but the country with the most output is China. However, China's quality cannot match the excellence of the best cashmere produced and used for manufacturing by the most famous Italian and Scottish brands. The difference is not only in the quality and thinness of the fibres but in the improvement of cashmere with age as well as the retail price asked when true quality is on offer.
The smaller the fibre in terms of microns, the more luxurious is the finished cashmere garment. The most mechanically advanced part of preparing cashmere yarn is rollers with thousands of tiny ultra-fine teeth that tease the cashmere fibres to fine gossamer gauze for uniform evenness with all fibres being parallel. Eventually this produces one long thread, which is wound onto cones for spinning. Advancements have also been made in terms of knitting and dyeing technology to ensure that precious cashmere fibre is not damaged.
In recent years, however, poor quality cashmere garments have entered the market. These are made by mixing cashmere with wool and other fibres. The combination of such fibres does not enhance cashmere's natural properties and it can result in a hybrid fabric which can be affordable for less accommodating pocket of the consumer.
The cashmere industry's success or failure is inextricably linked to the global luxury market and how it performs. In recent years, the luxury market has grown strongly, especially in China. This has also benefited leading cashmere brands as evidenced by their yearly results of, for example, Loro Piana and Bruno Cucinelli—both of whom had excellent financial results in 2012.
This year the pace of growth in luxury sales is lagging compared to 2012 due to the European wide recession, but the outlook still remains positive in Asia and the US.
Published on: 23/09/2013
DISCLAIMER: All views and opinions expressed in this column are solely of the interviewee, and they do not reflect in any way the opinion of Fibre2Fashion.com.