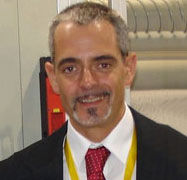 Mr. Antonio Danti
Managing Director
Danti Paolo Company

Company Details
Business Area:
Manufacturer of textile finishing machines
Your group has been dealing into textile finishing market since decades. Please share with us your reading on the way it is performing worldwide, its peculiar traits and movements?
Our company has reached successfully the third generation of family ownership and management and we have seen many changes in the textile field; changes that are in continuous evolution. For a manufacturer of finishing machines it is essential to be nearby its customers to catch the new trends and to develop together new applications.
Founded in 1935, as a small workshop for the repairing of textile machines our company has developed into a manufacturer of machines and has contributed to the reconstruction of Italian textile industry after the World War 2.
The '60s and '70s have seen an unprecedented growth of Italian textile industry. In these years Italy was taking advantage of the lower costs against Germany, France and England, to develop a big textile industry.
The '80s and '90s have seen Italy facing with the growth of countries like Spain, Portugal and Greece. Yet, in all these years the vicinity with our core customers has helped our company to develop new solutions and to propose them in the rest of the world market.
Today Europe and the States are facing the global market that leads these countries to reduce the production of textiles and sourcing in the developing countries. As a result the textile industry has mainly shifted in Bangladesh, Brazil, China, India, Pakistan and other developing countries.

(Contd.)
Published on: 10/02/2012
DISCLAIMER: All views and opinions expressed in this column are solely of the interviewee, and they do not reflect in any way the opinion of Fibre2Fashion.com.