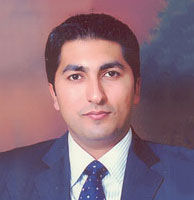 S M Imran
Director
Din Textile Mills Limited

Company Details
Business Area:
- Combed Compact Yarn - Core Spun LycraYarn - Core Spun Lycra Slub & Slub Yarn - Dyed Yarn - Melange Yarn - Plyyarn
Turnover:
$93 million approx
Export Capabilities:
Total Spindles Capacity: 79000
Clientele:
Hong Kong, Singapore, Thailand, Malaysia, Korea, China, Bangladesh, Egypt, Turkey, Italy, Spain, Portugal, Belgium, Germany, France.
Being amongst top 25 Cos in Karachi Stock Exchange, and an old hand in yarn sector, what scene in global yarn market do you see? What impedes Pakistan's growth?Has Uzbek cotton agreement worked?
The current yarn market in the world is facing a mixture of shock, surprise and panic. Since last 2 years, we have been witnessing what we have never witnessed in many decades. A global recession, followed by shocking disastrous floods in cotton growing countries, which became a surprise benefit for the spinning industry due to the panic of unavailability, lead to a major contributing factor for rise of cotton prices in last 1 and a half years. The rise of prices was also assisted by the heavy liquidity injection by powerful countries of world in the world financial market to roll the economic cycle again. This liquidity allowed many companies to get back on their feet and restructure their businesses in a way that can give them boost in sales.

The yarn market saw a bad trend when New York cotton index touched $1.50 level. This trend was bad due to the fact that at this level yarn market was moving along with rising cotton prices, but when the cotton elevated further to $2.13 level, we did not see much rise in prices and bottom line started to diminish for spinning industry. Then when the market started to fall again to its current level of $1.50, we witnessed a sharp fall in yarn prices, which was more than 40 %. This fall in prices destroyed the entire equilibrium between the cotton and yarn prices and hence started giving huge loss to the spinning industry.
Now since last 4 months we are witnessing an extremely slow textile market. In my opinion, it is due to following reasons:
· Japan is one of the major financial markets, with Japan facing an earthquake, financing problems were ought to arise in the Asian region creating some liquidity crunch.
· Pakistan in March came out with new forms of taxes on local sales; this tax was not clarified well by government, which created heavy inventory of yarns with the spinners. Once this inventory started to get off loaded, we saw a massive fall in prices.
· China had bought excessive cotton from their requirement, with expectation of new years' crop the Chinese started to sell their cotton in the world market and thus created an un-realistic supply available for the world, which also created a panic as China is one of the major Textile players of the world.
· When the cotton supply was available then what we say as a simple market demand and supply philosophy, which triggered the reduction in synthetic fiber prices, and hence cotton exchanges started coming down, pushing the yarn prices at an unrealistic level. At the current yarn prices, I doubt that there is anyone out there making a buck for themselves.
· Anyone who has cotton covered is just offloading it by producing yarns to avoid future loss if cotton comes further down. People who do not have cotton, have either reduced their productions or stopped it completely too. Recently, APTMA in Pakistan curtailed the spinning production significantly to push prices up which was also followed by South Indian Textile Association. All this has been happening to plan the saving of industry from the crisis being faced worldwide.

(Contd.)
Published on: 12/07/2011
DISCLAIMER: All views and opinions expressed in this column are solely of the interviewee, and they do not reflect in any way the opinion of Fibre2Fashion.com.