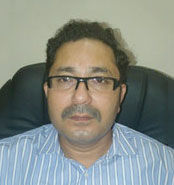 Mr. Tirtha Bhowmick
Country Manager
Federal Brands

Company Details
Business Area:
Men's bottom wear & sports wear
Export Capabilities:
Annual INR 2cr export to Middle East
Clientele:
India & Middle East
How do you see Apparel Retail industry growing in India? What is the mantra for making an apparel brand popular in the mass market keeping in mind the Indian consumer preferences and psyche?
Overall Indian Apparel and Clothing industry is expected to grow strongly at a rate of about 11% for the next 8 – 10 years. The current domestic textile and apparel market is worth about Rs. 2,200 bn and is expected to grow by 11% annually to reach over Rs. 6,500 bn by 2020.
To reach expected numbers we need to think beyond Factor Driven industry. Before 2005, the industry was largely Factor Driven (raw material availability, Labour availability, Government policy etc.), since 2005 it moved to be Efficiency Driven (vertical/virtual integration, manufacturing excellence, supply chain efficiency, diversity in product mix etc.), and now, 2012 onwards, it has to be Innovation Driven (Product, Design/Brand, Channels, Business Processes etc.).
For this, we need to re-invent the entire industry by collaboration across apparel value chain, focus/specialization by private players, building scale and thinking global and last but not the least, by investing in Innovation.
The Overall Take:
India's domestic demand shall be the driver of growth for Indian apparel and clothing industry in the coming Decade.

However, as new consumer needs and aspirations emerge, the industry will have to re-invent itself almost completely to take advantage of the opportunity.

More than USD 70 bn will be needed in fresh investments over the next 8 – 10 years.

There is very vibrant and bold entrepreneurship currently in the industry – in 2012; there will be at least 5 companies having USD 1 bn or more in revenues by end of 2020.
(Contd.)
Published on: 21/02/2012
DISCLAIMER: All views and opinions expressed in this column are solely of the interviewee, and they do not reflect in any way the opinion of Fibre2Fashion.com.