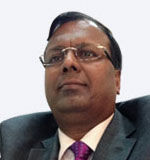 R.S.Jalan
Managing Director
GHCL Ltd.

'A major offshoot of the free trade regime is the frequent use of anti-dumping and anti-subsidy action by the developed countries'
Company Details
Business Area:
Chemicals, yarn, griege fabric and home textiles
What are the major economic indicators in the polyester yarn sector? What are the major barriers in the global polyester trade?
Major economic indicators in polyester yarn are as below:
Polyester Staple Fibre: Consumption declined from 756 million kg to 710 million kg between 2010-11 & 2013-14 after taking into account of steady export of 170 million kg on the same period. Production declined by 50 million kg in 3 years. Whereas first quarter of current year shows steady increase and sold in high demand situation.
Polyester filament yarn: Sharp decline noticed in the domestic consumption of PFY from 1220 million kg in the year 2010-11 to 934 million kg in the year 2013-14 which is compensated by export of 150 million kg., whereas production declined to the level of 200 million kg.
Moreover, India's cotton supply and demand mismatch with continuous raise in domestic consumption and exports will result in market move towards blended fabrics. This would lead to considerable growth in polyester segment.
POY demand forecast at CAGR 8.5%
Expected GDP growth outlook, increasing industrial output, rising disposable income, vibrant construction activity etc. to drive demand for home textiles.
Hotel room demand is expected to grow at 10% p.a for next 5 years necessitating addition of room capacity driving demand for home textiles.
Health care delivery market to grow at 13% p.a over next few years creating demand for more hospitals to boost demand for home textiles and work wear.
A major offshoot of the free trade regime is the frequent use of anti dumping and anti subsidy action by the developed countries. The European Commission (EC) has been particularly active in this regard. EC has initiated proceedings on PTY, PSF, Polyester Spun Yarn and polyester staple fibre fabrics originating from developing countries including India. The textile sector in India is not eligible for EU General System of Preferences benefits while the same benefits are extended to China, Indonesia, Malaysia, Sri Lanka, Pakistan, Bangladesh and Thailand. Shortage of PTA production in India and mainly country depends on Import. Price fluctuations based on international Crude Oil price and exchange rates. Moreover, PTA price positioned in line with Cotton price. Cartelization of 3 or 4 major polyester producers use to keep the price high which makes uncompetitive with other major polyester yarn producers in China and Taiwan.
- Mary Christine Joy

Published on: 09/07/2014
DISCLAIMER: All views and opinions expressed in this column are solely of the interviewee, and they do not reflect in any way the opinion of Fibre2Fashion.com.