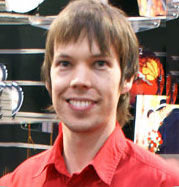 Mr Greg Stone
Director
GJS Machinery

Company Details
Business Area:
Screen Printing, Heat Transfer, Dye Sublimation, Textile Printing
Clientele:
Australia, New Zealand, Pacific Islands, Fiji
In the backdrop of happenings in fabrics sector, how is your textile printing sector shaping up? What are the problems faced by players in your sector?
In the Australian printing sector we're seeing a paradigm shift in the way that local businesses are thinking about and using textile printing. From a hardware perspective developments in direct-to-garment and direct-to-fabric printing technology is reopening avenues of opportunity that were previously reserved for short-run, low-cost, overseas manufacturing.
Australia however still has much catching up to do if it wants to compete with more developed markets such as the United States and Europe. These more mature markets are much larger in size compared to Australia and with our proximity to Asia it has been commonplace for local designers to send short-runs overseas to more financially viable locations.
In order for the technology adoption to become more mainstream, we also must educate the market that these short runs can now be done onshore and economically using new technology such as direct to fabric printers and Sawgrass M-TT ink. Educating the market is something that GJS Machinery is actively doing through a variety of different means and hopes that through persistence the Australian market will realise that the technology exists to produce high-quality, locally produced textiles without sending the work to Asia.
The success of digital printing on textiles depends on many elements. Of these elements, ink stands out as the most important; after all it is the ink that physically forms the image and must survive and perform to satisfy customer expectations. The challenge for ink chemists is to strike a balance between the need for the ink to hold its colour, provide crock-fastness (resistance to rubbing) and adhere to the print surface while still being able to pass through the print heads of the printer without clogging.
(Contd.)
Published on: 15/07/2011
DISCLAIMER: All views and opinions expressed in this column are solely of the interviewee, and they do not reflect in any way the opinion of Fibre2Fashion.com.