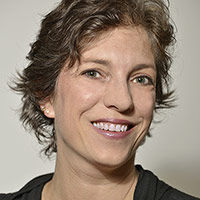 Claudia Kersten
Director Marketing and Finance
Global Organic Textile Standard

Company Details
Business Area:
Sustainability Standards and Certifications
What benefits can MSMEs have from GOTS certification? What is the procedure to get GOTS certified?
GOTS is a very efficient supply chain management tool, especially for MSMEs. You only need to look at the immediately preceding supplier. If they are GOTS certified and the products are delivered with a valid GOTS transaction certificate, they do not have to trace the whole supply chain. They then know that the entire preceding supply chain is GOTS certified. In contrast to setting up their own track and trace system - which is expensive for MSMEs in most cases, this is very efficient as it saves costs.
MSMEs can look for already certified suppliers in the 'Public Database' of GOTS, if it is too hard to have their own supply chain.
However, the process of getting people to adopt our sustainability criteria is often difficult. The GOTS environmental and soc ial criteria are strict. What makes it easy is that GOTS offers solutions, adds efficiency and increases competitive advantage.
GOTS sets criteria for the entire supply chain - from field to fashion. Fibre producers (farmers) must be certified according to a recognised international or national organic farming standard which is accepted in the country the final product is sold.
Traders and operators (from post harvest-handling to garment-making) have to undergo an onsite annual inspection cycle. They must hold a valid GOTS scope certificate. Scope certificates declare that the certified entity is able to process the listed products or product categories under GOTS certification. But they are not proof of specific shipments from this company being GOTS certified. In order to ensure that a specific shipment of products received from a certified entity is GOTS certified, buyers can ask for a Transaction Certificate (TC) from the suppliers. This certificate is issued by GOTS, and lists the concrete products and shipment details, including buyers' name and address. It also declares the GOTS certification status of shipped goods.
Published on: 05/04/2016
DISCLAIMER: All views and opinions expressed in this column are solely of the interviewee, and they do not reflect in any way the opinion of Fibre2Fashion.com.