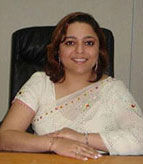 Geetanjali Kapoor
Founder
GMS Exports

Company Details
Business Area:
Readymade garments
How do you see the market for readymade garments in India? What will be the effect of the new government on the industry?
All over the world, there is a huge demand for Indian readymade garments. Approximately, 45 to 65 percent of European and US buyers wish to manufacture their readymade garments in India. Still, India is the king in making handicraft and other such works as compared to other countries.
There is a huge scope for menswear in India since there are hardly any big names in the Indian menswear market touching the middle class. We have some big names like Tommy, Nautica, but they all are very expensive. If someone can give a similar quality with a lesser price, then every middle man will likely go to that store.
With respect to the effects of the new government on the Indian readymade garments industry, the new government is expected to strengthen the rupee as compared to its current value. At this moment, it will not mean good for the Indian exporters. But the new government is likely to support the readymade garment industry as per their manifesto.



- Mary Christine Joy


Published on: 06/06/2014
DISCLAIMER: All views and opinions expressed in this column are solely of the interviewee, and they do not reflect in any way the opinion of Fibre2Fashion.com.