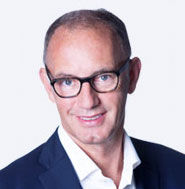 Stephan Hohmann
Managing Director
HANRO

Company Details
Turnover:
Between 30 and 40 million Euro
What are the major changing trends in the global fashion market and the luxury clothing segment that you have noticed over the years?
One of the major changing trends for me is the increasing vertical integration of businesses in the textile industry. Moreover, the global fashion industry has become increasingly dynamic: the fashion environment is constantly on the move and trends are changing much faster. Trends from haute couture and designer runway shows move much faster into street fashion, which makes high fashion more easily accessible for all customers and not limited any more to a certain customer group.

Affluent sophisticated customers are looking for high quality products made of premium fabrics from renowned brands, such as Italian cashmere brands. Those customers value brands with heritage and excellent craftsmanship which are experts in their area for producing premium garments for many years. This is what makes the split between luxury and cheap mass-market products. Region-wise, the US is still the number 1 luxury market in the world, but especially East Asia is catching up on consumption of luxury garments.

One of the biggest challenge for a luxury garment brand is the requirement and given obligation to constantly provide the cream of the crop to all customers worldwide - the best quality, the best fabrics, the best designs, the best service, and so on. On the other hand, it is for me the greatest joy to have - and see - happy, satisfied, loyal customers, loving the brand - like HANRO customers who have been buying our products for many years.

Social media is very important in promoting a brand, because it is the easiest way to spread news and information - instantly, fresh and just-in-time - and much faster than with print media. More and more people read about brands in the internet -and if they like it, instantly shop for products of those brands online. Not to forget how easily information is multiplied with social media, when fans of a brand tell or show all their friends on their blog, on facebook, twitter or instagram how much they like a brand or a certain product - even better, when this is done by an opinion former and role model like a celebrity (model, actor/actress, singer, fashion editor, stylist, ….).
Published on: 03/01/2014
DISCLAIMER: All views and opinions expressed in this column are solely of the interviewee, and they do not reflect in any way the opinion of Fibre2Fashion.com.