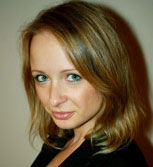 Ms. Nikoleta Panteva
Senior retail industry analyst
IBIS World

Company Details
Business Area:
Industry research firm
Clientele:
Professional service and government organizations
Which are the countries with market potential for luxury garments? What is your overview about the luxury clothing market in 2013?
The global market for luxury clothing and accessories is about US$ 273 billion and the major consumers are the UK, France, China and Japan. In Europe and Japan, a dedication to quality and craftsmanship is the reason for high consumption of luxury garments, while the expanding middle class in China is attracting the consumers of this region to luxury apparels.
As far as the fabrics and materials used in luxury clothing is concerned, manufacturers are increasingly using organic and sustainable materials. There is also a focus on artisan and hand-crafted garments.
In recent years, the luxury clothing market has grown strongly, especially in China. But this year, the pace of growth in luxury apparel sales is lagging as compared to last year due to the recessionary conditions in Europe and China, which are the two key markets for this product category. But the outlook still remains positive in Asia and the US.
As the US continues to climb out of its recession, demand for luxury apparels in the country will surge. Moreover, luxury garment makers are increasingly targeting the Latin American market since it is expanding its purchasing power and interest in high-end consumer goods.
Although the industry cannot do much to boost the luxury spending as a whole, the brands can attract the customers by offering lower-priced options and focus on craftsmanship to get customer attention.
However, we hope the luxury market will rebound along with the global economy.
Published on: 21/08/2013
DISCLAIMER: All views and opinions expressed in this column are solely of the interviewee, and they do not reflect in any way the opinion of Fibre2Fashion.com.