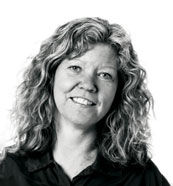 Kristina Petersson Lind
Range and Design Manager
IKEA

How do you view the current market for home textiles in Europe? European consumption for home textiles exceeds all other geographical locations. Why is it so?
It is perhaps a combination of saturated and emerging. A market segment can be or feel saturated for different reasons. We need to identify those reasons and strive to deliver solutions that are meaningful and non-redundant. I think that something interesting will always emerge from a saturation point and that is positive - something that delivers to a completely different array of issues than before. Consider, for instance, aspects like design-to-sustainability, up-cycling and the close-the-loop models and circular economy principles that are so much in focus now. This is a big part of a collective emerging response to the current situation. Then only creativity and innovation will enable that response in full extent.

There is a fundamental need for home textiles. As we say in IKEA, one needs textiles to turn a house into a home. Textiles provide the comfort and warmth that is needed to make a place functional, cozy and personal. Textiles also give us endless possibilities to express ourselves, to create and to refresh our place. With relatively little means one can create a big difference by using textiles. And this is definitely an outstanding aspect (of textiles). At the same time, textiles are the most exposed home items to 'wear and tear'. They are under constant high demands since they are used intensely. That also explains a higher rotation in this category of products.

About how does this relate to a European context, for sure there are cultural influences that have an impact on it. On the one hand, there is a large tradition of textile industry and textile design and development in Europe. There is also an acquired liking for home textiles that might be part as well of a rich history in home furnishing and architectural movements. On the other, more functional side, different ways of living and using the space have a major influence as well in textile consumption patterns. For instance, sleeping preferences, setting the table or the way of dealing with natural light, to name a few, might have a big influence in the demand of textiles.

Published on: 12/09/2014
DISCLAIMER: All views and opinions expressed in this column are solely of the interviewee, and they do not reflect in any way the opinion of Fibre2Fashion.com.