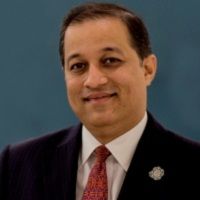 Asim Dalal
Managing Director
Indo Count Retail Ventures

Today, there is no other emerging market as India, "we make in India and sell in India."
Please provide an overview of the market for home textiles in India. What are the latest trends in home textiles? Which are your major markets? What standards do you maintain for the export markets?
Currently the home textiles market is estimated to be INR 27,000 crores and is expected to touch INR 40,000 crores by 2021. The CAGR has been around 8 per cent.
We have made major inroads in the fashion bedding and institutional bedding business as well. At Indo Count, we have four core product categories that we cater to and are faring well; namely, sheet sets, fashion bedding, utility bedding or institutional bedding. Our focus is to make utility bedding into a fashion statement, where quality and design contribute equally towards building a product.
The premium segment in India has valued fabrics with high sheen and luster; hence 90 per cent of our product offerings are primarily of this quality of fabrics. The look and design for the premium segment is minimalistic, contemporary, and our designs reflect the same. The brand also offers design with an edge, to wow the alpha male and drive him to buying decisions.
We supply to almost 49 countries in the world . The US is our biggest market, followed by the UK and the rest of Europe and then the Middle East. We have developed our capabilities by establishing ourselves in the most competitive international market, which is most demanding with astute consumers. With mastering the made-to-order off take ecosystem, we have continuously expanded our share from large customers.
The US continues to be the largest market for Indo Count and contributes nearly 65 per cent to the company's turnover. The other major markets are from the developed regions of Europe, the UK and Australia. Large and growing markets are the next frontier for Indo Count. And today, there is no other emerging market as India, "we make in India and sell in India."
The global bed linen industry is highly evolved and there are strict parameters for quality being followed, primarily to safeguard the user from the ill effects, a mediocre dye or fabric treatment. The process we follow at the plant while catering to any of the global customers is approved by global quality assurance and standards acceptable by global buyers. The retail too takes on these product trails from the export division, with a promise of not bringing in anything mediocre to the retail consumer.
Published on: 03/09/2016
DISCLAIMER: All views and opinions expressed in this column are solely of the interviewee, and they do not reflect in any way the opinion of Fibre2Fashion.com.