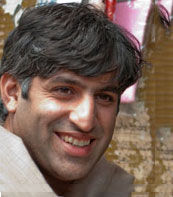 Mr. Ahmed Khan
Director - Marketing & Finance
Inter Market Knit P. Ltd.

Company Details
Business Area:
Hosiery Manufacturing - Socks
Turnover:
USD 8 million/year
Export Capabilities:
100% Export, 2 million dozen pairs / year
Clientele:
USA, Canada, Italy, UK, Germany, Holland, Norway, France, Denmark, UAE, Saudi Arabia
How do you see worldwide socks sector shaping up amidst various geographical, socio-political, economical set of happenings?
The biggest challenge to our industry is the failing economies of Europe and the US, which are the biggest consumers of our products. Less spending power for consumers means commodity items get rationed resulting in retailers and wholesalers wanting to reduce inventory and cut costs.
Unfortunately, this has not been off-set with the emergence of other high consumption economies. China, India, Brazil, Russia, for all their growth, still have a very limited middle class with adequate spending power. However, as domestic production prices in these countries rise, there should be a trend towards them, importing the lesser value-added goods, like commodity textiles. Having said that, the demand for hosiery products is still strong, mostly due to the consolidation of wholesalers and manufacturers globally and closing down of inefficient units.
Changing trends and greater awareness from consumers has also played its part in changing the product mix, pushing the low-end product further down and improving the specifications and quality of middle to high-end products.
Pakistan still remains the primary producer for sports socks, due to its high quality locally produced cotton. Similarly, China still remains the highest producer of synthetic yarn products and dress socks. Other noteworthy players in the dress and high end markets include India, Turkey, Korea and now Vietnam. Eastern Europe is still cost efficient and logistically viable for the European market, whereas countries like Mexico, Honduras and the other Caribbean islands serve the same purpose for North America.
(Contd.)
Published on: 16/02/2012
DISCLAIMER: All views and opinions expressed in this column are solely of the interviewee, and they do not reflect in any way the opinion of Fibre2Fashion.com.