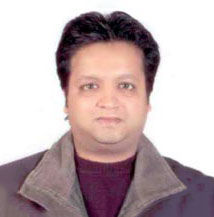 Mr Kapil Jain
Founder
J B Texmach and Spares Pvt Ltd.

Company Details
Business Area:
Used Textile Machinery & Spare Parts
Export Capabilities:
Approx USD 10 Million
Clientele:
Far East, India Pacific, European Union, USA
How do you evaluate prospects of Used textile machinery sector in India? Any areas of Grievances?
Used textile machinery sector in India is very vast and growing with the pace of approx 20% per annum. We see further increase in demand as quick and easy finance available from financial institutions. Used machines decreases the overall project cost of mills, helps them to compete in international market, and saves government FOREX. In fact, by making manufacturers competitive, it helps them earn valuable FOREX and thus, maintain trade balance.

In spite of this fact, the sector is left as a neglected sector. Many countries like Bangladesh, Sri Lanka or even European nations want to import machines, which are available in Indian Market, but due to Government policy, we cannot re-export these used machines. Prevailing government policies impede trade of used machines, sending advances etc., for trade purpose, and normally companies engaged in such business are totally depended upon commission as their profit rather than trade third world countries' business.

TUFS though is a beneficial policy needs to be little more encouraging by provision of extra benefit to companies who like to upgrade their technology by selling their obsolete machines (exporting) and importing new technology machines. Permission should be given on immediate base to such companies who like to sell their existing machines and want to buy upgraded version of such machines.
*******
Published on: 10/03/2011
DISCLAIMER: All views and opinions expressed in this column are solely of the interviewee, and they do not reflect in any way the opinion of Fibre2Fashion.com.