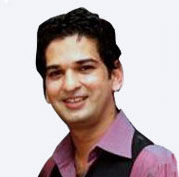 Mr. Parth Panchal
Marketing Head
K B Corporation

Company Details
Business Area:
Manufacturers of fibre, yarn and fabric processing machines, sizing equipments, rotary screen printing machines, etc.
Clientele:
Vardhman Group, Trident Group, Deepak Spinners Ltd., Raymond Ltd., Banswara Syntex Ltd., Arvind Mills Ltd., Chiripal Group, Shiva Texfabs Ltd., Welspun India Ltd., Century Denims, Bhaskar Industries, Beximco Textiles, Mother Textiles, Shina Denim, etc.
What is the current scenario of the Indian textile machinery market and how do you see the prospects of the sector this year as compared to last year?
Indian textile industry is the second largest in the world and with the help of advanced technology, automation, source of raw material and highly qualified technocrats; the country's textile machinery manufacturers have great potential as well as scope to be a pioneer globally.

High dependency on new technologies and automation along with new CNC machineries, automatic sheet metal cutting, molding machinery, better knowledge of metallurgy and availability of automations gives value added addition to the Indian textile machinery sector.

The price elevation has become the major hurdle for the Indian textile machinery makers. By taking into consideration the prevailing market situation, the cost of manufacturing has become so costlier that neither the machinery manufacturers get enough margin nor the clients get enough satisfaction with the price.

Secondly, the country's textile machinery sector is facing major challenge from availability of comparatively cheap machineries which are imported to India. So the Union Government should take some effective steps in response to develop the domestic market.

Indian textile machinery sector is expected to witness a growth rate of 20-25 percent this year as compared to last year.

The countries with high consumption of Indian textile machinery are Bangladesh, Egypt, Pakistan, Thailand, Sri Lanka and some of the African countries. With the recovery of the global market, such as the US and the EU, we are expecting a rapid growth in the export market of Indian textile machineries.

Published on: 13/12/2013
DISCLAIMER: All views and opinions expressed in this column are solely of the interviewee, and they do not reflect in any way the opinion of Fibre2Fashion.com.