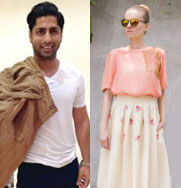 Abhimanyu Singh Rathore & Barbara Anna Kosiorek
Co-founders
Kannbar

'Blending cultures is the true beauty of fashion, where one's imagination is the only limit'
Company Details
Business Area:
Durrie art
What is the influence of foreign trends and designs on Indian fashion?
Foreign trends and designs have definitely influenced Indian fashion. The evolving societies at a different level are freer today to accept so-called western style with an Indian touch. It is interesting to see the fusion of traditional design with modern fabrics and patterns, or vice versa.
The Indian mindset is slowly becoming more tolerant today with respect to the freedom to dress up, dress down, experiment with colours or the lack, thereof. We are in favour of this influence, and it is visible in our brand's vision. Because of the exposure to global brands, fashion in India has become more bold and experimental. You can notice western designs on kurtas, sarees and handmade traditional fabrics used in modern designs.
Our products are a fine example of what transpires when traditional art meets contemporary fashion. We have taken it on ourselves to revive the traditional art where skilled artisans put in almost 30 days of painstaking craftsmanship to make the fabric. Hand-done zari exemplifies the work. The symmetrical designs are fresh, keeping in mind the ongoing worldwide trends.
Blending cultures is the true beauty of fashion, where one's imagination is the only limit.
Published on: 05/11/2015
DISCLAIMER: All views and opinions expressed in this column are solely of the interviewee, and they do not reflect in any way the opinion of Fibre2Fashion.com.