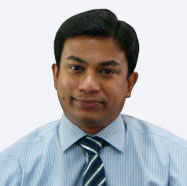 Mr. Dharshaka Tillekeratne
General Manager (Marketing)
Lumiere Textiles Ltd.

Company Details
Business Area:
Knitted fabric manufacturing
Export Capabilities:
1.2 million meters per month
Clientele:
Dunnes Stores, Matalan, Landmark, LiDL, Lasenza, Disney stores, Reima, Pretty Polly, House of Holland
What are the challenges faced by the Sri Lankan knitted fabric sector at present and at what rate do you expect the production volume in the sector to grow in the coming years?
The knitted fabric sector in Sri Lanka has been challenged with increase in costs. Energy cost is an example. The prices from buyers have not increased as much to cover these increases in costs. Therefore the manufacturers have only two options. One is to intensify their drive towards reducing costs by challenging each and every process in production. The other option is to diversify the customer base and the product base with focus on greater value addition.
The sector is also challenged by high fluctuations in price of the predominant raw material, the yarn. The manufacturers try to address the issue by entering into longer term contracts with the spinners.
Sri Lanka produces around 175 - 200 million meters of knitted fabric per annum. Majority of the fabric is used for indirect exports. Domestic consumption would be less than 15 percent of the production.
Production volume boosted with the entry of the 5th major producer, Lumiere last year. Sri Lanka has set itself proportionately high growth targets in the garment industry. By 2015 the export revenue of the industry is planned to increase by around $ 1 billion which is about 25 percent of the present level. This will mean additional demand for knitted fabric in the coming years on one hand.
On the other hand Sri Lanka already imports around $ 300 million worth knitted fabric per year due to the inability to source locally. So there is a pull from demand side for knitted fabric in the country. It should also be noted that more and more retailers and garment manufacturers prefer to source the fabric locally in order to cut down the costs as well as lead times.
However in the supply side the increase in production will come only through the expansion of production facilities of the present players in the industry. This is due to inherent difficulties for new players to come in such as infrastructure requirements particularly in effluent treatment and high investment costs. Some of the present knitted fabric producers have already announced their plans for expansions in the coming years. Based on these plans knitted fabric production in the country could rise by 15 – 20 percent in the coming 1-2 years time.
Published on: 30/10/2013
DISCLAIMER: All views and opinions expressed in this column are solely of the interviewee, and they do not reflect in any way the opinion of Fibre2Fashion.com.