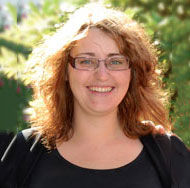 Ms. Vera Koschnick
Sales Manager
MAGEBA Textilmaschinen

Company Details
Business Area:
Machinery/System supply to narrow fabrics sector including: 1.Rigid & elastic tapes, ribbons 2.Heavy duty webbings for military belts, sling webs, harnesses lashes, car safety belts 3.Special loom developments for medical field (vascular grafts, artificial arteries, stents, etc) 4.Specialised looms for 3D weaving/weaving with carbon fibres for automotive & aircraft industry 5.Machinery Programmes from preparation of weaving (warping) to final made-up,measured & packed product
Export Capabilities:
Exports over 90% total production
Clientele:
Worldwide Countries
With 50 years of experience in manufacturing & developing weaving, dyeing & finishing ranges for performance fabrics, how do you see the allied machinery market developing?
There is quite clearly still a lot to be developed but the markets have changed. The apparel business is no longer the main task for us as machine builders. We can see a strong move into technical textiles. And we started to develop machinery for that purpose approx. 10 years ago.
We split that so-called technical market into several groups: viz medical, automotive, aircraft, military webbings, and last but not the least- the conventional technical fabrics such as sling webs and other small markets.
The markets vary according to regions. We find a very strong medical market in the USA and an equally strong market in automotive industry in Europe. The market for aircraft industry is growing but still is in the beginning phase. The Far East is not representing a large market share other than in standard products such as sling webs and other harnesses. The market seems to be more in the fashion and apparel business. There is a strong expertise in the old economies and a tremendous know-how that is now being transformed into usable technical textiles.
In India, the medical market is slowly but surely gaining pace over other segments as they have by far not reached the technical level that is prevailing in the old economies. For us, the focus on Car Seat belt segment is now gradually gaining importance in Indian context, which it has already been for countries like China, Japan, Thailand and Korea; however there is saturation in these regions, nowadays. Other than constantly modernizing and redeveloping existing products there are no major changes to be expected in the product lines.
It is also a concern that, in particularly, intelligent market such as India is lacking the adequate quality consciousness and so top class equipments are not in much demand compared to other countries.
*******
Published on: 04/10/2011
DISCLAIMER: All views and opinions expressed in this column are solely of the interviewee, and they do not reflect in any way the opinion of Fibre2Fashion.com.